Shimano XTR Dyna-Sys FC-M980 Trail Crankset - Double
Double-down.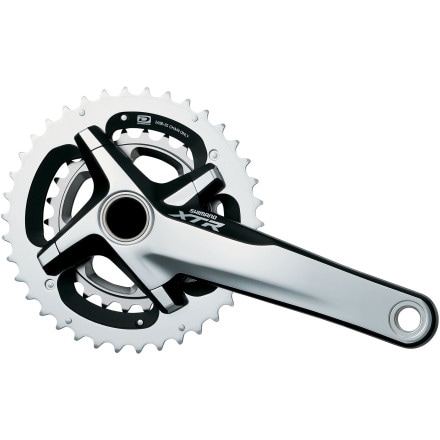 Shimano XTR Dyna-Sys FC-M980 Trail Crankset - Double:
A standard 64/104mm BCD allows the XTR Dyna-Sys FC-M980 Trail Crankset to run double 'rings over the 88mm BCD, single-specific found on the Race version. It is 10-speed specific, and it's different than an XTR 970 crank in a number of ways.
First, it's lighter. Secondly, the left-side crankarm uses pinch bolts to fix it to the splined Hollowtech II spindle. Gone is the threaded preload collar from the XTR 970 crank. The pinch bolt design separates the functions for bearing preload and securing the crank. On the other hand, like the last generation XTR cranks, the FC-M980 use Shimano's Hollowtech II cold forging process.
This produces a crankarm assembly that's lighter and stronger than traditional solid forgings. Moving on, the chainrings are shaped according to Shimano's HG-X tooth profile design. What this means is that shifting is optimized to work with the HG-X 10-speed XTR chain. One thing that's worth noting, in this double ring configuration, it's necessary to use the double-specific XTR front derailleur as the cage size and shape are optimized for this application.
The Shimano's Double XTR Dyna-Sys FC-M980 Trail Crankset comes in four crankarm lengths -- 165, 170, 175, and 180mm. It has 38/26t or 30/42t chainring configuration, and includes an XTR Hollowtech II Bottom Bracket.
Features:
Arm Material:

aluminum

Arm Length:

170 mm 172.5 mm, 175 mm 180 mm

Chainring Sizes:

28 / 40 T, 30 / 42 T

Bottom Bracket:

XTR

BB Type:

Hollowtech II

BB Threading:

English

Bolts:

alloy

Rings:

2

Recommended Use:

cycling
More Photos: