Yeti Cycles SB-66 Carbon Race Complete Mountain Bike
Superbike, indeed.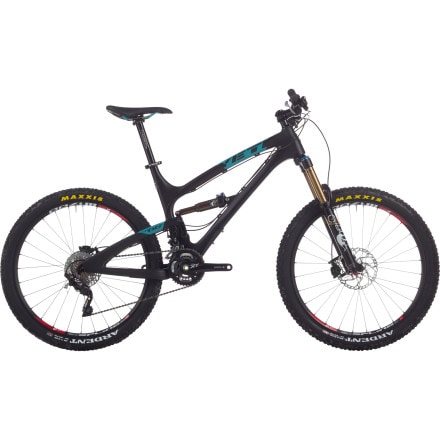 Yeti Cycles SB-66 Carbon Race Complete Mountain Bike:
We must admit, we had high expectations when our friends in Golden Colorado announced the Superbike. You see, Yeti has been pushing the limits of mountain bike design for almost three decades, and the SB-66 Carbon Race Complete Mountain Bike is a culmination of those efforts. But our expectations were exceeded when we finally swung a leg over one. With a six pound frame offering six inches of travel, its arrival pretty much established a new class of mountain bike. And the aggressive geometry? Perfection, if such a thing exists. We'd have to agree with Yeti, this puppy is in every way deserving of the Superbike moniker.
At the core of the SB-66's beloved handling is Yeti's proprietary Switch Link suspension platform. On the surface, it looks like most any single pivot bike, but thanks to the eccentric pivots, the wheelpath and suspension kinematics are that of a short dual link suspension design, as found on the SB's closest competition. The benefit of a dual link design is that it enables the wheelpath to be optimized for particular tasks in different portions of the travel. Namely, the wheelpath stays near vertical early in the travel, providing a responsive feeling at the pedals, and keeping the chainstays short for quick handling. As the bike compresses past the sag point, the axle travels rearward, keeping the bike responsive to large impacts, and providing a smooth ride on incredibly rough terrain.
If this seems like marketing-driven hyperbole, perhaps you'll prefer race results. Yeti factory rider Jared Graves piloted his SB-66 carbon to a win at the Crankworx stop of the Enduro World Series, and thanks to stage wins throughout the season, he took second place in the overall against some truly fearsome competition. As if that weren't enough, with the help of his SB-66, Graves also placed himself on the podium at the 2013 Downhill World Championships in Pietermaritzburg RSA, the only person on a short-travel bike to be a serious contender. There but a few bikes that will remain composed at those speeds, while providing the efficiency necessary to compete at the very highest level of the sport. In other words, the SB-66 is backed by a pedigree that few, if any, can match.
Part of the SB-66c's overall quickness can be attributed to its stiff, lightweight, carbon fiber chassis. At six pounds with a shock, this is one of the lightest six inch travel bikes available. But don't think for a minute that it gives up one iota of strength or stiffness. With thoughtful tube forming, a tapered head tube, and the massive bearings afforded by the Switch Link, this bike won't flinch when you throw it into turns at wide-open speeds. Better yet, the svelte frame weight keeps even robust builds under 30 pounds, meaning that you don't need superhuman fitness to enjoy the climb to the top.
While the SB-66's geometry looks somewhat extreme on paper, we've found that in reality, it has us questioning why other manufacturers are taking so long to follow suit. You'll find that the effective top tube lengths are roughly an inch larger per size than many of its competitors. The reason being is that Yeti intends the SB-66 to be ridden with a shorter stem, and the longer cockpit provides the same reach you'll already be used to. With a relaxed head angle and fairly short stays, the bike rewards an over-the-bars riding style, but most riders find that they adopt this aggressive posture naturally, without so much as a moment's consideration. In other words, we'd recommend that you follow Yeti's recommended sizing chart, rather than sizing down, as some have suggested.
Yeti's Race build gives you everything you need to pull the '66 out of the box and rip. Suspension duties are handled by Factory Series FOX units, specifically a 160mm travel FLOAT 34 up front, and a FLOAT CTD out back. Both employ FOX's Kashima coating, for reduced friction and a supple ride, and thanks to the Yeti factory team's partnership with FOX Racing Shox, you're assured a setup that's as dialed as they come. The drivetrain and brakes both come from Shimano's workhorse XT group, with a double-chainring crankset, Shadow+ clutch-equipped rear derailleur, and the phenomenal XT brakeset. The stem and seatpost are Thomson items, while the cockpit is rounded out with an Easton Havoc carbon fiber bar, and a Yeti branded WTB saddle. It rolls on a DT 350 XM wheelset, wrapped in Maxxis tires. While it's not included, you may want to consider is a dropper seatpost.
The Yeti SB-66 Carbon Race Complete Mountain Bike is available in four sizes, from Small to X-Large, and in the colors Carbon/gray and Carbon/turquoise.
Features:
Frame Material:

carbon fiber

Suspension:

Switch Technology

Rear Shock:

FOX FLOAT CTD Kashima

Rear Travel:

152 mm

Fork:

FOX 34 FLOAT 26 FIT CTD Trail Adjust Kashima

Front Travel:

160 mm

Headset:

Cane Creek

Shifters:

Shimano XT (10-speed)

Front Derailleur:

Shimano Deore XT

Rear Derailleur:

Shimano Deore XT Shadow+

Crankset:

24-38 t Shimano Deore XT

Bottom Bracket:

Shimano

ISCG Tabs:

removable ISCG mount

Pedals:

n/a

Cassette:

Shimano XT

Chain:

Shimano XT

Brake Set:

Shimano XT

Rotors:

XT SM-RT76

Handlebar:

Easton Havoc Carbon

Grips:

Yeti lock-on

Stem:

Thomson 4X

Saddle:

Yeti Branded WTB

Seatpost:

Thomson Elite

Seat Collar:

Yeti clamp-on

Wheelset:

DT Swiss 350 XM LTD

Tires:

Maxxis

Recommended Use:

enduro and ripping trails

Manufacturer Warranty:

2 years on frame
Sizing Chart:
Yeti Cycles
Geometry Chart
SB-66 Carbon
FOX 34 150mm Travel Fork

Seat Tube

(c-t)

Effective Top Tube

(eTT)

Stand Over

Head Tube

(HT)

Head Tube Angle

(HTo)

Seat Tube Angle

(STo)

Bottom Bracket Height

(BBH)

Chainstay

(CS)

Wheelbase
XS
14.8in
22.2in
27.0in
3.7in
66.7o
71.7o
13.5in
17.0in
43.1in
S
16.5in
23.2in
27.9in
4.9in
66.7o
71.7o
13.5in
17.0in
44.2in
M
18.0in
24.2in
28.3in
4.9in
66.7o
71.7o
13.5in
17.0in
45.2in
L
19.5in
25.2in
29.4in
5.5in
66.7o
71.7o
13.5in
17.0in
46.3in
XL
21.0in
25.9in
30.2in
6.3in
66.7o
71.7o
13.5in
17.0in
47.1in
More Photos: