Patagonia Better Sweater Jacket - Women's
Great looks meet great warmth for a fall and winter sweater you wonít ever leave at home.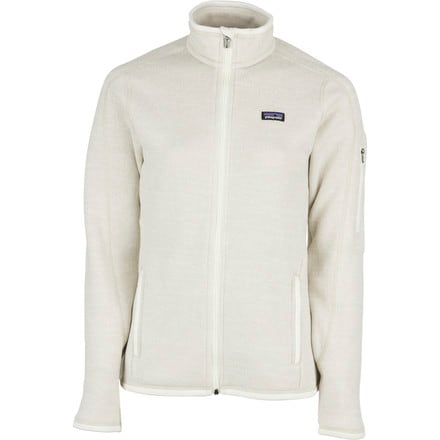 Patagonia Better Sweater Jacket - Women's:
Explore another lively mountain town this winter when you wear the Patagonia Womenís Better Sweater Jacket. Combining a knit sweater feel on the outside with a soft fleece interior, the Better Sweater insulates you while maintaining the about-town look of a sweater sold at twice the cost. This fleece jacket isnít just for looks, however, with the stand-up collar as well as a front zipper wind flap to guard against the gusts during chilly day hikes in the hills.
Features:
Material:

100% polyester fleece

Fit:

slim

Pockets:

2 front, 1 sleeve, 2 interior

Hood:

no

Claimed Weight:

1 lb 1 oz

Recommended Use:

winter wear, layering

Manufacturer Warranty:

lifetime
Sizing Chart:
Patagonia
Women's
Apparel
XS
S
M
L
XL
US Size
0 - 2
4 - 6
8 - 10
12 - 14
16
Chest
32 - 33in
(81.2 - 83.8cm)
34 - 35in
(86.4 - 88.9cm)
36 - 37in
(91.4 - 94cm)
38.5 - 40in
(97.8 - 101.6cm)
42in
(106.7cm)
Waist
24 - 25in
(61 - 63.5cm)
26 - 27in
(66 - 68.6cm)
28 - 29
(71.1 - 73.7cm)
30.5 - 32in
(77.5 - 81.3cm)
34in
(86.4cm)
Hip
34.5 - 35.5in
(87.6 - 90.2cm)
36.5 - 37.5in
(92.7 - 95.3cm)
38.5 - 39.5in
(97.8 - 100.3cm)
41 - 42.5in
(104.1 - 108cm)
44.5in
(113cm)
Inseam
31in
(78.7cm)
32in
(81.3cm)
32in
(81.3cm)
32in
(81.3cm)
32in
(81.3cm)
Bottoms
XS
S
M
L
US Size
00 - 2
4 - 6
8 - 10
12 - 14
Waist
24 - 26in
(61 - 66cm)
27 - 28in
(68.6 - 71.1cm)
29 - 30in
(73.7 - 76.2cm)
31 - 32in
(78.7 - 81.3.cm)
Swimwear
XS
S
M
L
XL
Chest
32.5 - 33.5in
(82.6 - 85.1cm)
34 - 35in
(86.4 - 88.9cm)
35.5 - 36.5in
(90.2 - 92.7cm)
37 - 38in
(94 - 96.5cm)
39 - 40in
(99.1 - 101.6cm)
Waist
25in
(63.5cm)
26.5in
(67.3cm)
27.8in
(70.5cm)
29.3in
(74.3cm)
31.3in
(79.4cm)
Hip
35.5 - 36in
(90.2 - 91.4cm)
36.5 - 37.5in
(92.7 - 95.3cm)
38.8in
(98.4cm)
40.3in
(102.3cm)
42.3in
(107.3cm)
Formfitting: Conforms to the body's contours.
Slim Fit: Closer-fitting. Slim-fitting technical garments may be worn over baselayers and light midlayers.
Regular Fit: Neither slim nor oversized. Regular-fitting technical garments may be worn over heavier midlayers.
Relaxed Fit: Drapes loosely on the body.
Classic Boy Fit: Boxy, athletic, with a traditional crew neck.
Anika Fit: Formfitting and longer in the torso, with a wider, deeper neck (not quite scoop).
How to Measure:

Measurements refer to body size, not garment dimensions. For best results, take measurements over your underwear.

Chest:

Measure under your arms, around the fullest part of your chest.

Waist:

Measure around your natural waistline, keeping the tape a bit loose.

Hip:

Measure around the fullest part of your body at the top of your legs.

Inseam:

Inseam will vary depending on style; when lengths are offered, "short" is 30, "regular" is 32 and "long" is 33. Using pants that fit well, measure the crotch seam to the bottom of the leg.
More Photos: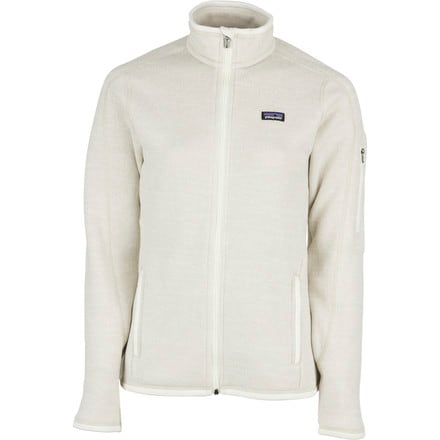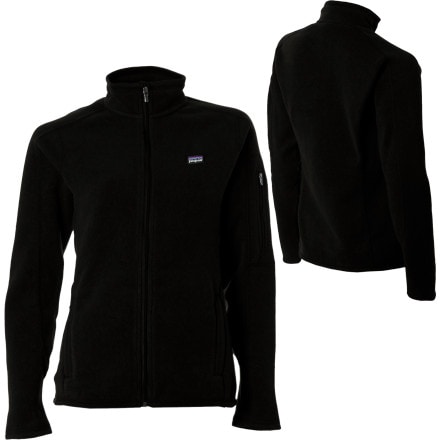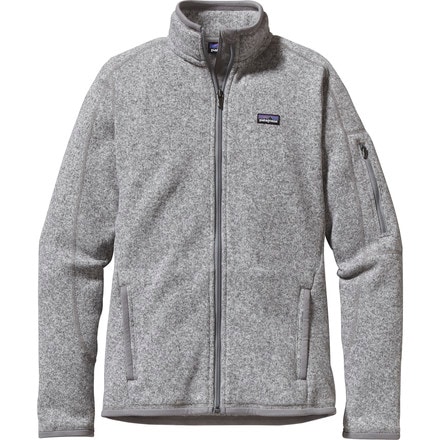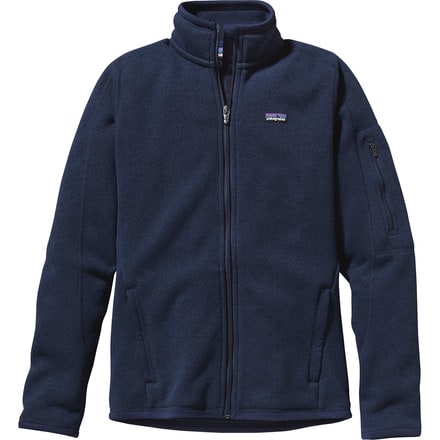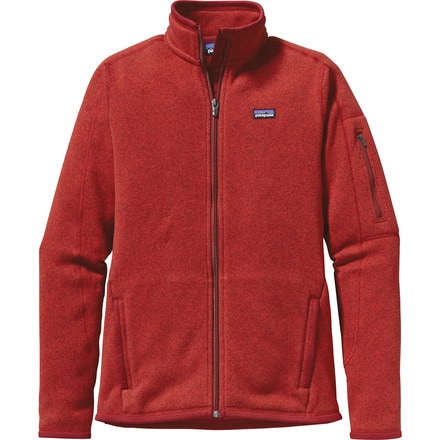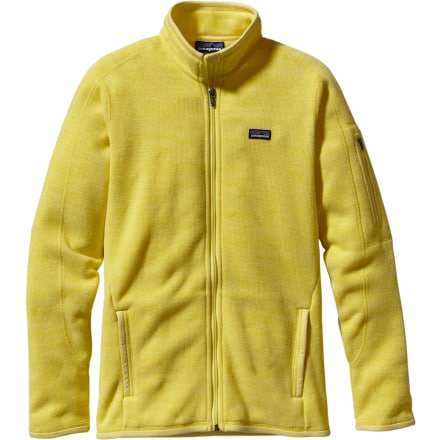 Reviews:
jud4086812 (0)
November 3, 2010
LOVE IT!
I bought this jacket 3 years ago and left it somewhere within 6 months of owning... I have been wanting a new one ever since. I got it a few weeks ago and have gotten numerous compliments on it. Better than that is that it keeps me toasty and is the most comfortable fall jacket I will ever own!
Leslie Byers (8)
July 22, 2012
Awesome Alternative to a Traditional Fleece
Nice weight and very soft. I will wear it a lot, both on its own and under another jacket. I appreciate the texture of the fleece at it seems not to pill like a traditional polyester fleece jacket. It looks more like a wool piece without the itchiness.
vol4913266 (0)
June 28, 2012
Exactly what you pay for!
Been debating for a while whether or not I should invest in these jacket! And it is completely worth it! Nice and light, but also has a nice lining that is great to wear on colder evenings! Inside is so soft, and the sizes do not run to small or to big! Great Investment!!
katierucke1834145 (0)
March 5, 2012
Awesome Jacket!
I absolutely LOVE this jacket. I've been trying to find something that is light enough, yet still warm to wear for multiple seasons and I think I found it! Quality is great, and have gotten a lot of compliments already. Backcountry swapped out the size from my initial order with extreme ease and paid for the shipping. Great customer service and I'll definitely be ordering from them in the future.
Chris Sanger (0)
May 2, 2012
It really is better.
I got my girlfriend one. What is mistake. Now I can't buy the mens version without making us look like weirdos that dress alike. Then again, I'm comfortable being a weirdo, she isn't. Maybe I will buy myself one and just wear it every day until hers ends up at the bottom of the clothes pile.
Sarah (0)
December 8, 2011
Love
My boyfriend bought me the green sweater jacket for Christmas last year. It is beautiful and warm, unless it gets really cold, say when only down will do. Nice warm pockets and a handy pocket on the arm. I am an average build 5'8", and usually in between a M/L, and the large fits just fine. It's not fitted, but not too baggy. My ONLY beef is that since it is a sweater, it's starting to pill. Granted I am wearing the bajeezus out of it, so I'm hoping to find a sweater shaver or whatever they're called and crossing my fingers it will get rid of the stupid little balls. take care!
Patricia Haglin (0)
August 12, 2012
I.Love.This.Jacket.
As a self admitted fleece jacket junkie, I like to think I have high standards when it comes to fleeces. This jacket is hands down my favorite out of my obnoxious closet full of fleeces. It's a super flattering fit and fits me perfectly (5'9, 145 lbs, bought the size medium). It's warm, comfortable but tailored enough that I can wear it out with friends int he evenings. It really is a nice jacket and worth every penny.
Cara (0)
October 17, 2011
The best gift I have ever recieved!
Checked this jacket out at the shop in Cardif, CA. My guy wanted to get it for me, but I told him "NO". He then sent it to me a week later in the mail! It was like Christmas!
Chicagogal (11)
December 23, 2010
Amazing : )
Just got this in the butterfly blue and I adore it! The color is very pretty - blue with a purple undertone and quite true to the photo. The fit is slim and feminine - not at all boxy. I'm 5'7" and I appreciate the long torso length and sleeves (if only it had thumbholes it would be perfect). The interior is soft and cozy and the "sweater" outside gives it polish. I want another color now!!
chi4795437 (0)
August 6, 2011
Disappointed
I was so disappointed when I tried it on and found that it was too long for me, too long torso and sleeves.... I am 5' and ordered XS. I had to return it. Still inside fleece is very soft and nice.
riotgrrl74 (13)
July 9, 2012
not just for winter
i wore this all winter and thru the spring, nicely versatile, with great layer capabilities (not too snug or bulky). I am 5'5, 125lbs. and I bought this in the small, and it hits frame just below the hips, and not too snug in the shoulders, and nice long sleeves.
Gemma (0)
November 9, 2010
Disappointed
I was so happy when I found this in the sale, as I had been watching out for it for a while after reading so many good reviews... It arrived today and when I tried it on I was so disappointed as I found it to be a very boxy fit, the pocket on the arm is just annoying, and it feels quite stiff and not very comfortable when bending my arms... I am 5'10 145lbs and I found the medium was too long for me, overall it just did not fit me at all. Good points are that the feel of it is lovely, really soft, and the fleece on the inside is really nice too.