Castelli GPM Short Sleeve Jersey
GPM stands for Gran Premio Delle Montagne: the king of the mountains.
Castelli GPM Short Sleeve Jersey:
When Americans think of hill climbing prizes, KOM (King of the Mountains) comes to mind. In Italy, the prize is GPM, Gran Premio della Montagna. Castelli's GPM Full Zip Jersey is a fine maglia to wear when scooting up steep hills to steal mountain points from your friends. You love them, but sometimes you have to beat them. It's for their own good.
The GPM is probably the least flashy jersey in the Castelli lineup, but it still stands out with the classic close Castelli fit, grey caps on the sleeves and collar, and of course, their scorpion logo.
The GPM Jersey is similar to the Prologo jersey in terms of fit and material. The differences are that the GPM uses 100% Stratus fabric with Prosecco treatment. There are no contrasting color panels, the collar and sleeves are topped with seamless micro fiber fabric for comfort and grip, and there's a silicone gripper at the waist hem. Castelli also thought to include a full-length zipper (FZ) with a cam-lock on the pull. Open up the zipper and you can pull open the jersey without tugging on the zipper. Lock down the cam, and the pull will stay in place.
Castelli's Stratus fabric with Prosecco treatment looks simple. But the engineering behind it is impressive. Stratus is a dual-layer 100% polyester knit weave. The inner layer is a multifilament web that moves moisture from your skin or base layer to the outside of the fabric. The outer layer is a micro fiber weave that allows sweat to evaporate in the wind. Prosecco is a treatment that helps water disperse and evaporate faster, rather than staying in the jersey.
There are three standard rear pockets with the Castelli scorpion on the middle pocket and a fourth, mini-zip pocket built into the right rear. The Castelli logo is also on the shoulder.
The Castelli GPM Full Zip Short Sleeve Jersey comes in Black, Cyan, Red, and White. Sizes run from Small to XX-Large.
Features:
Material:

Stratus, Prosecco

Fit:

form fit

Pockets:

3 rear

Zip:

full-length

Recommended Use:

cycling

Manufacturer Warranty:

30 days
Sizing Chart:
Castelli
Men's Apparel
Castelli Men's Apparel

S
M
L
XL
XXL
XXXL
Jersey
35-37in
(88.9 - 94.0cm)

37-39in
(94.0 - 99.1cm)

39-41in
(99.1 - 104.1cm)

41-43in
(104.1 - 109.2cm)

43-45in
(109.2 - 114.3cm)

45-46in
(114.3 - 116.8cm)

Waist
30-32in
(76.2 - 81.3cm)

32-34in
(81.3 - 86.4cm)

34-36in
(86.4 - 91.4cm)

36-37.5in
(91.4 - 95.3cm)

38-40in
(96.5 - 101.6cm)

40-42in
(101.6 - 106.7cm)

Hips
36-38in
(91.4 - 96.5cm)

38-40in
(96.5 - 101.6cm)

40-42in
(101.6 - 106.7cm)

42-44in
(106.7 - 111.8cm)

44-46in
(111.8 - 116.8cm)

46-48in
(116.8 - 121.9cm)

How to Measure:

For best results, take measurements over your underwear.

Chest:

Measure under your arms, around the fullest part of your chest.

Natural Waist:

Measure around your natural waistline, keeping the tape a bit loose.

Hip:

Measure around the fullest part of your body at the top of your legs.

Inseam:

Using pants that fit well, measure the crotch seam to the bottom of the leg.

Sleeve:

Measure from the center of your back to your wrist with arms held out.
More Photos: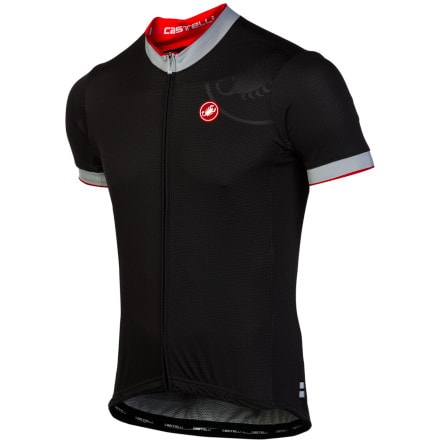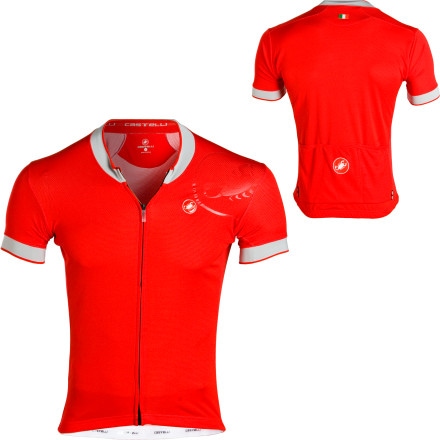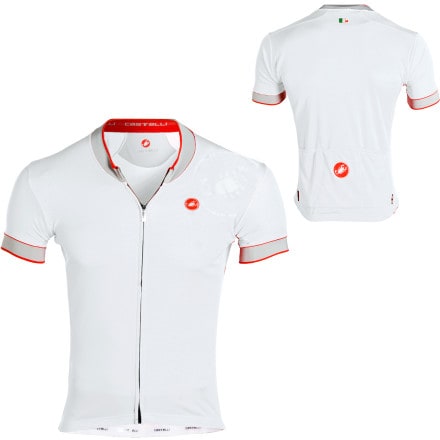 Reviews:
2Wheels4Life (1)
July 12, 2012
I'm sticking with Castelli
I really, really, really like this jersey! Like others have said, this jersey feels perfect when in the cycling position because of how it's cut. The sleeve length is just right and it doesn't ride up my arms like other jersey brands do. The stratus material loves to breathe. The more you sweat, the jersey starts feeling like second skin. I just wish it was a tad bit shorter in length. I'm 5'8" at 149 and I got a size L. The chest measurement from the sizing chart is just right, so size up!
Erick Brian (0)
May 30, 2012
Great jersey for the money!
I ended up purchasing an XXL thinking this would be a race-fit or probably be real tight, but it's loose enough to keep me comfortable all day on the saddle in the heat without having to mess with my collar too much or re-position it. I'm in between an XL and XXL I guess, 5'11.5" and 220lbs (44" chest) and the pockets felt a bit loose, so I was worried if I lost weight it wouldn't fit, but I figure I'll just get it tailored to the exact fit when that happens. Anyhow, the performance of the jersey is awesome! It's clean, looks good, and kept me dry on a sunny day, but the morning was a bit chilly and I wasn't freezing. The interior lining feels great, the pockets are roomy, and it's just an all around comfortable fit. Very pleased with this!
jsc4411804 (0)
February 26, 2012
Its great.
I really enjoy this jersey. I have it in the red and the white versions and I'm considering getting either the black or the cyan as well. It's super light and breathable which makes it suitable for the hottest of days. The fit is top notch and is similar to most other Castelli jerseys. However, the more subtle design of this jersey fits my style much better than most other Castelli product. The style combined with the fit is the reason I enjoy this jersey so much. For those who've read other reviews about having to return for larger sizes...stick to the size chart. Take the few minutes required to actually take measurements and you'll be much less likely to have to return for a different size. I'm 6' 1" tall and 170 lbs with approximately a 39" chest and got the large. Ordering based on the size chart and measurements got me the right size.
jara (0)
April 15, 2012
climbers body shape :-)
Comfortable jersey. I usually dress size "L", but this jersey is too small in shoulder/armpit area. So I got size "LX" I am 185cm = 6'1", 75.5kg = 166 lbs and chest 103cm = 40.25" I most cases you will have to go one size up. Looks like this design is for real climbers body shape :-) Schleck, Contador etc...
lch4951728 (0)
April 8, 2012
see-through white
The fit and detailing were great, but the fabric of the white jersey was a bit too transparent for me.
jve4694507 (0)
March 24, 2012
Snug
The red logo looks cool but it's a hard shiny button. Assume the position first before evaluating the fit. The shoulder/armpit area feels weird/tight standing in front of the mirror but forms into place nicely leaning over on the bike. Go a size up with this eurodog stuff. Snug, which means it's not my most comfortable.
jle4984971 (0)
November 17, 2011
Shoulders too tight
I found the shoulders too tight for comfort and the white is almost see through. I guess that is what "form fit" means instead of "slim fit"? Oh well, other Castelli jerseys are more to my liking so just returned it.
(0)
September 7, 2011
Castelli Jersey
This is a great jersey - does everything you expect with wicking and comfort and color. I am a 44" chest and 5'10" and the XXL is the right size (almost a race fit). No riding up - easy to reach pockets - full zip. No complaints at all - love Castelli kit.
tad4693164 (0)
July 2, 2011
Nice jersey
I'm 6" and got the xxl and it fit perfect. very comfortable and lightweight. Dries quick and I love the zipper mini pocket.
dps4748744 (0)
July 1, 2011
Great Jersey - Runs Small
I'm 6'3" - 195 lbs and had to return the 2XL for a 3XL. Castelli definitely makes their stuff for smaller guys. Its a great jersey and looks good. I originally got the yellow, but when I returned it due to size I got the red in its place. The yellow was kind of see-through.