Tacx i-Vortex Trainer w/TTS 4 Basic
Training, virtually anywhere.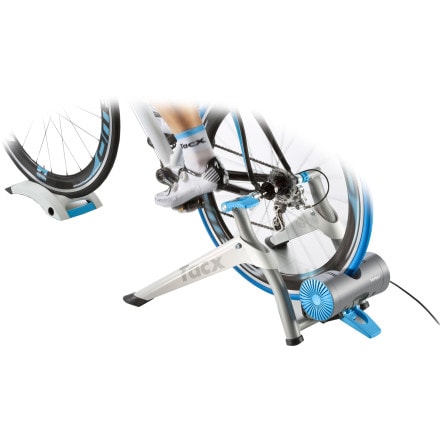 Tacx i-Vortex Trainer w/TTS 4 Basic:
Tacx is known for creating stimulating virtual reality indoor cycling training programs. The Tacx i-Vortex Trainer not only incorporates the latest in software to enable you to climb Mont Ventoux or race a velodrome 6-Day, it also is able to disconnect from the world of virtual reality — it becomes a professional-level, stand-alone trainer for in-the-flesh training sessions.
Tacx constructed the Vortex's frame from stainless steel and aluminum, effectively making it both stable and incredibly durable. The construction easily handles load forces through its wide steel legs, with the rubberized feet keeping the frame in place on either a firm flooring surface or mat. Tacx made the Vortex simple to set up, with just two bolts on the legs and a large adjustable locking cam on the rear dropouts. It comes with the Skyliner front wheel support and is compatible with the BlackTrack steering frame, which is sold separately.
The Vortex gives you heart rate readings, power output, speed, and pedaling frequency. In more precise terms, your power is accurately expressed from 10 to 950 watts, and in readings of current, average, and maximum power. Likewise, your speed is capable of being read in categories of current, stop watch, trip distance, maximum, and average speed. And in terms of cadence, the Vortex is capable of providing current, average, maximum, and total revolution readings per session. The information is displayed on an onboard computer mounted to your handlebar. It's easy to navigate through, and it transmits your metrics directly to your home computer via ANT+.
Once you get riding, the Vortex allows you to adjust your workout for both power and slope. The Vortex operates off of an electro-brake system with eight magnets and a 2kg flywheel, so you're able to maintain a realistic resistance under the wheel. With the basic software, you gain immediate access to four animated virtual reality terrains, 2 criterium races, and velodrome gameplay against virtual opponents. With the i-Vortex, you have the option to upgrade to advanced software. With it you'll receive access to Tacx's multiplayer web racing and catalyst training with 3D display. You're able to race against Tacx riders from all over the world, on the most historic courses in cycling.
The Tacx i-Vortex Trainer w/TTS 4 Basic is adjustable in order to accommodate various wheel sizes, from 600 to 640mm and 690 to 710mm.
Features:
Material:

[frame] aluminum

Resistance:

8 adjustable magnets, 8 permanent magnets

Foldable:

yes

Recommended Use:

indoor training and racing against your friends

Manufacturer Warranty:

1 year
More Photos: