Exposure Diablo Mk6 Headlight
The devil's in the details.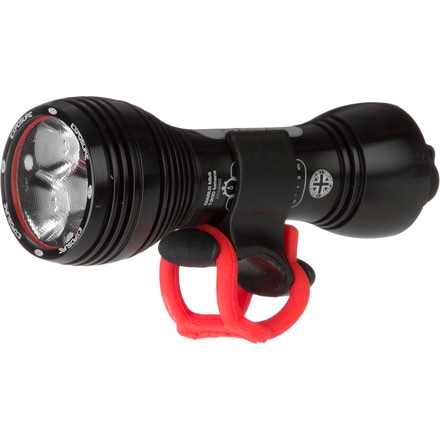 Exposure Diablo Mk6 Headlight:
By far the company's most popular model, the Exposure Diablo Mk6 Headlight makes a strong case to be the one and only headlight you need. It hosts a number of ingenious features, is easily mountable on either a helmet or handlebar, and its timeless design and quality come courtesy of its British engineering and manufacture.
The beautifully CNC-machined and laser-etched body certainly captures your attention, but let's start with a number: 1300. That's the quantity of lumens that the Diablo is capable of producing via its 3 XML LEDs. Consider that most car headlamps produce around 800 lumens, and the Diablo's performance is especially amazing when you realize it weighs a mere 108 grams. Toggling through the Diablo's multiple, programmable flash and steady modes is incredibly easy given the light's TAP technology. TAP, or Tap Activated Power, negates the need to fumble around trying to find a small button on the back of a light that's bouncing around on your helmet. The light recognizes a sharp tap and cycles through its modes accordingly.
You'd probably think the Diablo comes with a clunky external battery and dangling cable that you'll have to figure out what to do with, but you'd be wrong. Hiding behind the collimated lens that precisely disperses an even beam pattern, the Diablo, like all Exposure lights, efficiently utilizes a compact, rechargeable internal Li-ion battery. Being entirely self-contained, it's a far brighter and lighter torch than almost anything else nearly as bright. As mentioned, the Diablo is incredibly light, making it extremely easy to ride with, whether mounted on a helmet or a handlebar.
The Exposure Diablo Mk6 Headlight comes in one size and one color only. It is rechargeable via included USB cable, and the light includes a helmet mount and a quick-release handlebar mount that can accommodate virtually any handlebar diameter.
Features:
Bulbs:

3 XML LEDs

Power Source:

rechargeable, internal Li-ion battery

Batteries Included:

yes

Modes:

multiple, programmable

Lumens:

[max] 1300

Burn Time:

[max] 24+ hours

Waterproof:

yes

Claimed Weight:

108 g

Recommended Use:

nighttime cycling

Manufacturer Warranty:

[LEDs] lifetime; [housing/mount/accessories] 2 years
More Photos: