Ergon BX3 Hydration Backpack - 976cu in
Stay hydrated for the long haul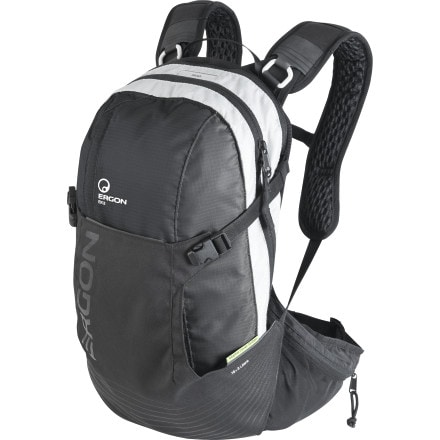 Ergon BX3 Hydration Backpack - 976cu in:
Wearing a pack on your back while mountain biking sounds uncomfortable. But the alternatives, stuffing your jersey pockets with gear, or going hungry, aren't much better. Ergon has designed a series of hydration-compatible packs that are so comfortable, you won't feel the need to compromise. Ergon's BX3 is larger than the BX2 by almost 400cu in and perfect for long days of exploring in the saddle.
Ergon's extensive research and development of ergonomnics has been utilized to develop bicycle grips which provide optimal grip and control, its expertise extends into a range of products from saddles to seatposts to hydration packs. Hydration packs? Yes, Ergon designed a series of hydration packs that not only are easily adjustable to fit a variety of riders, they are also designed to move with you as you ride and not weigh you down or throw your weight in the wrong direction.
Although the storage capabilities of the BX3 are well thought out, its fit is what truly sets it apart from other packs. Using Ergon's Adaptive Carrier System, the BX3 is stabilized against your lower back as you ride. Unlike traditional backpack straps which adjust for length but leave the load hanging from your shoulders, the Adaptive Carrier System creates a cradle between the straps that essentially holds the weight of the pack from below. Think of it as a sling or hammock. In this manner, the pack's weight is held against the small of your back minimizing shifting and movement as you move around on the saddle. It also means that there is less stress placed on your shoulder joints. The pack features 4 positions that adjust for height. In addition to the comfortable shoulder straps, the waistband is not just one narrow piece of webbing. It's a wide, slightly padded strap that is easily adjustable with one hand. A rear contour fit aluminum bar helps to shape the pack to mold to the rider.
Ergon's BX3 pack is designed not just to hold your water bladder — it's outfitted with a main compartment that holds up to 976cu in of supplies. Additionally, it is expandable with the quick tug of a zipper for an additional 183cu in of space. Internally, there are organization pockets. It also features a separate bladder compartment for your hydration pack, a helmet retainer, front and side pockets, a hip belt pocket, and a rain cover. For added visibility if your route takes you onto poorly lit roads, HiLumen reflectors have been added to the pack.
The Ergon BX3 Hydration Pack is available in Small (body height up to 5'9") and Large (body height over 5'9") and in the colors Grey/green and Black.
Features:
Volume:

976 cu in; [with zipper expansion 1159 cu in

Reservoir Volume:

3 L

Locking Bite Valve:

no

Waist-Belt:

no

Compression:

no

Pockets:

internal main, waistband storage, bladder compartment, helmet retainer, side pockets

Recommended Use:

mountain biking

Manufacturer Warranty:

1 year
More Photos: