Shimano XTR Dyna-Sys FC-M980 BB90 Trail Triple Crankset
Your cadence weapon.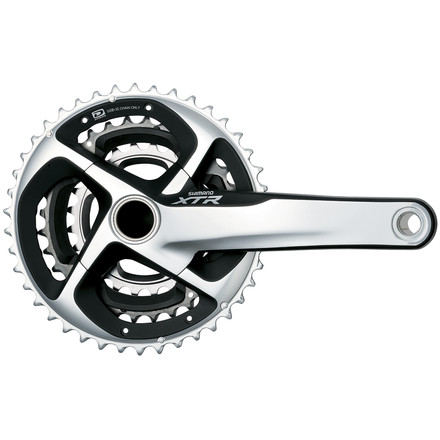 Shimano XTR Dyna-Sys FC-M980 BB90 Trail Triple Crankset:
Usually, new technology trickles down, but in this instance, Shimano trickled up technology from the 10-speed XT group. And this XTR Trail 3x10 Hollowtech II Crankset FC-M980 is the first 10-speed specific XTR triple crank. It's different than an XTR 970 crank in a number of ways. First, it's lighter by about 50 grams, and it's hard to beat the sinister, throwing star aesthetic when you compare it to the static-looking radial arms of the old spider. Other changes include a move back to pinch bolts for the left side crankarm to fix it to the splined Hollowtech II spindle. Gone is the threaded preload collar from theXTR 970 crank. The pinch bolt design better separates the functions for bearing preload and securing the crank.
Like the last generation XTR cranks, the FC-M980 XTR Cranks use Shimano's Hollowtech II hollow cold forging process. This makes for a crankarm assembly that's lighter and stronger than traditional solid forgings. The outer chainring is hollow as well, and the advanced 3D shape is stiffer and more resistant to deflection when you're trying to make quick shifts up to the big ring. The chainrings are shaped according to Shimano's HG-X tooth profile design. What this means is that the shifting has been optimized to work with the new HG-X 10-speed XTR chain. The middle ring is still a composite of carbon and titanium to add rigidity for better shifting, increased service life, and smooth power delivery to the cassette out back.
The XTR Trail 3x10 Hollowtech II Crankset FC-M980 comes in four crankarm lengths -- 165, 170, 175, and 180mm. It has a 42/32/24t chainring configuration. It comes as a complete crankset with a Shimano XTR Hollowtech II Bottom Bracket.
Features:
Arm Material:

aluminum

Arm Length:

165 mm, 170 mm, 175 mm, 180 mm

Bolt Circle Diameter:

104 mm

Bottom Bracket:

external

BB Type:

SM-BB90-A

BB Threading:

English

Bolts:

aluminum

Rings:

3

Spindle:

aluminum

Compatible Components:

HG-X 10-speed chain, E-Type front derailleur

Claimed Weight:

660 g

Recommended Use:

mountain biking

Manufacturer Warranty:

3 years
More Photos: