Northwave Aerlite 3 Shoe - Men's
Pro level support, comfort, and energy transmission so you can drop the weekend warriors.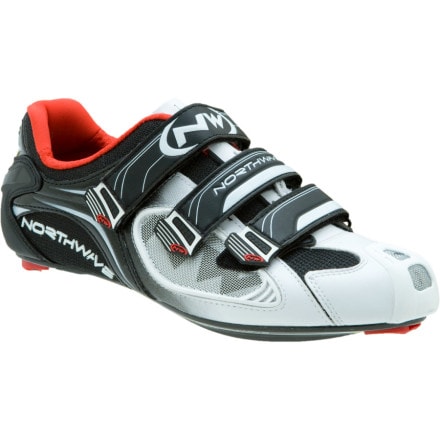 Northwave Aerlite 3 Shoe - Men's:
Power transmission, ventilation, heel retention, and an anatomic fitóthe Northwave Menís Aerlite 3 Cycling Shoe knows what it takes to get you riding your best. Three layers of carbon on the sole make sure these pro-level cycling shoes stay stiff and responsive, while a three-strap design and the Ultra Y Heel lock your feet down so you donít lose power on the upstroke. The Aerlite 3ís wood lasting insole has a flexible layer of thermoformed wood that molds to your foot and supports your arch, and a stiff core that improves power transmission. The wood insole also dampens vibrations and isolates your foot from the outsole to avoid overheating.
Aerator system keeps your feet cool by channeling air from the toe past your foot, then out the side and rear mesh panels
Performance Pro footbed ensures comfort and ventilates to keep your feet cool
3 straps and Web Power Cage locks your foot in at three points for a firm fit
Engineered BioMap construction stabilizes foot in the correct riding position to reduce risk of trauma on long rides
Wood intersole supports, doesnít absorb sweat, dampens vibration, and adds power
Ultra Y Heel braces your heel naturally to avoid lift and bolster comfort
Features:
Upper Material:

[upper] synthetic leather microfiber; [upper] mesh

Lining:

wicking synthetic

Soleplate:

3-layer Carbon fiber, wood insole

Cleat Compatibility:

3-hole road

Tread:

no

Weight:

[pair] 1 lb 7 oz

Recommended Use:

road biking, competition

Manufacturer Warranty:

1 year
Sizing Chart:
Northwave
Northwave bike shoes are sold in EU sizing. Find your EU size with this chart, keeping in mind US conversion is approximate.
Bike Shoes

| US Men | US Women | EU |
| --- | --- | --- |
| 3 | 5 | 34 |
| 3.75 | 5.5 | 35 |
| 4.5 | 6 | 36 |
| 5.5 | 6.5 | 37 |
| 6.5 | 7.5 | 38 |
| 7 | 8 | 39 |
| 7.25 | 8.25 | 39.5 |
| 7.5 | 8.5 | 40 |
| 8 | 9 | 40.5 |
| 8.5 | 9.5 | 41 |
| 9 | 10 | 41.5 |
| 9.5 | 10.5 | 42 |
| 10 | 11 | 42.5 |
| 10.5 | 11.5 | 43 |
| 10.75 | 11.75 | 43.5 |
| 11 | 12 | 44 |
| 11.5 | 12.5 | 44.5 |
| 12 | 13 | 45 |
| 12.5 | 13.5 | 45.5 |
| 13 | 14 | 46 |
| 13.5 | 14.5 | 47 |
| 14 | 15 | 48 |
| 14.5 | 15.5 | 49 |
| 15 | 16 | 50 |
More Photos: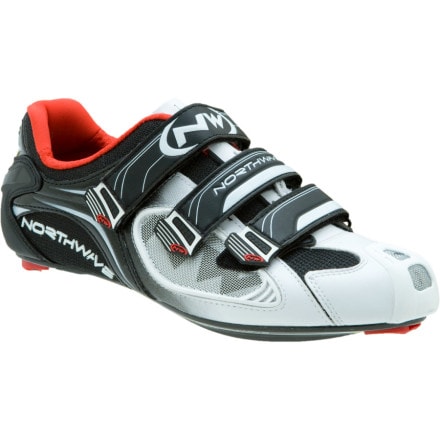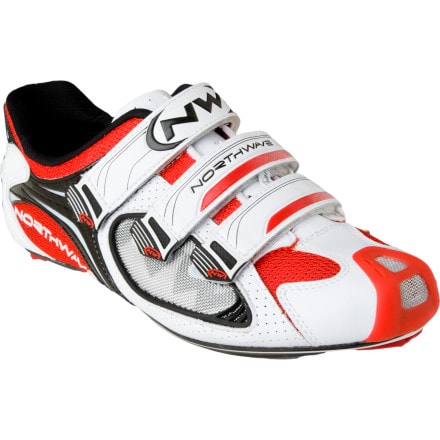 Reviews:
sgg5473849 (0)
March 28, 2012
My issue but don't trust their size conversion chart
I think I could have liked these shoes if their sizing ran true. They stated that size 46 European would be equivalent to US size 13. It definitely is not and they did not have a size 47. I had to order a substantially more expensive shoe in size 47 which I like very well but it would have been nice if I could have worn the shoes at less than $90. Their good-looking and lightweight. (They also seem a bit narrow across the toe box for a duck foot like me)
Anonymous (10)
March 18, 2012
Can't tighten THEM enough :-(
I bought these as a replacement to my old Northwave shoes which I LOVE!!! The quality in these is outstanding and I love everything about them. The sizing is the issue as your can see from the size chart they are 1 size off normal euro sizes but thats NBD its the width. My old Northwaves were a fairly wide shoe which I liked but these are even wider and with the new way they have attached the strap (that are extra long) you can't tighten them down enough to keep your heal tight in the cup. I love these shoes just wish they were a little tighter.
gaz5486011 (0)
March 16, 2012
totally recommended
Great product and super fast delivery. Would recommend realcyclist to anyone wanting bike stuff without a second thought :)
gaz5486011 (0)
March 16, 2012
totally recommended
Great product and super fast delivery. Would recommend realcyclist to anyone wanting bike stuff without a second thought :)
david gill (0)
February 9, 2012
Nice shoes; great value
North Wave is definitely my current brand. I was pleased with the Vertigo Pros purchased last fall, but have pressed them into service with Look cleats for the gyms' spin classes. Now, I have a pair of these Aerlites with Speedplays attached for the road. What I thought good about the Veritigos is even better in these. First very stiff soles, with good power transfer. Plus, I'm still fan of the three velcro straps. I was hesitant about the shoes ability to breathe through that wooden sole during the summer, but have been pleased with then so far this spring. This shoe literally does have a wooden sole above the carbon. Anyway, there does appear to be ample vents coming from the toebox, sides and heel cup. The one thing that I don't absolutely love, is that the toebox vent is partially obscured by the glue used to adhere the screening to the opening. I was worried that this glop would limit airflow, but so far my feet have been fine. Still, I'll find out this more summer about just how cooling these shoes really are. But, so far so good!
fir5567599 (0)
May 3, 2012
Hard to hit the right size
On my Nike shoes, I have a 8.5 running shoe and another 9.5 running shoe. Both fit me very well, so I decided to get a size 42 shoe. The 42 shoe was too big for me. I think a 41 would be just right, but I haven't tried it and I won't try in in lieu of a different shoe.
kimjmoon2271378 (0)
March 8, 2012
Dont be fooled by the sizing!
I bought these and followed the size guide and when I received them they were too small. I sent them back, and ordered the size I wear in all of my other shoes.....shimano / Pearle Izumi and Bontrager mountain shoes and they fit perfectly! My advice, order the size you traditionally wear and theres a good chance they'll be fine. In my case, I wear 45's and the chart said 43. OH and the shoes are great! I have a Bontrager mountain pair that are not Carbon and paid $80 more. Get them before they are gone,.
styven72256460 (0)
February 29, 2012
Sizing
I have a wide foot and wear a 45 in Shimano shoes. I took a chance and ordered these in size 45 and they fit very well, nice to find another cycling shoe that is a bit wider in the toebox.
vij5452314 (0)
March 5, 2012
Sizing-not for me
I believe these shoes are well constructed and felt very stiff. IMHO the sizing is not for the "normal" foot. I wear a 42 in Specialized and ordered the same for the NW, and these are probably a size too big. A 41.5 would probably fit, but the toe box was extremely wide on this shoe, even being a 1/2 size bigger, so it's not the shoe for me. I gave it 5 stars because it's a well constructed shoe, just not meant to be for me.
cor5435569 (0)
February 23, 2012
Small
Fit is way small - I'm a 13 and the 46's were not even close.
fau5328634 (0)
February 15, 2012
Look and feel great
I wear a 11.5 in a Nike, New Balance and Clark, I ordered a size larger and it was tight in the toe box. So I got the size 46 and they feel great. I hope this helps on size questions. the three velcro straps make the shoe fit very snug, would buy again.
pmo5262156 (0)
February 14, 2012
Size
Just got the great shoes and glad I read the reviews on shoe sizes. I wear US 9 or 42 1/2 to 43 in European. I went 1 Eur. size larger than Northwave chart and got 42 1/2 and they fit perfect! I have been ridding for over 30 years, and these are well made and a great value. Venting will be great come warm weather.
fra5418849 (0)
February 11, 2012
Carbon soles under a hundred..Highly recommend
Thanks, super fast shipping. My previous shoes were shimanos size 45 someone said just to go with the same size you wear regardless what the northwave sizing says, so I did and I believe I could have gone with a 44.5 but if you put inserts in your shoes like I do, they fit just fine. They seem to be made for the not so narrow and the not too wide foot. Super stiff sole, they feel stiffer than my shimanos. Glad I went with the three straps instead of the buckles. Lighter too. They feel like they seem to distribute tension just perfectly. No hot spots and very well ventilated. dont know about riding with them in below 50ē without shoe covers. They feel like my old pair of specialized shoes without the price tag. Highly recommend these bad boys. In regards to durability i havent had them long but they seem to be constructed very well. Carbon soles under a hundred, cant beat that. Worth every penny. Thnx.
kimjmoon2271378 (0)
February 8, 2012
Sizing
Im giving them 4 stars for the quality. The sizing chart is mixed on this board about what fits and what doesnt. I normally wear a 45 on my 3 other pair of shoes, but the chart said 43.5. Others on this site said to trust the chart. I did. Now i'm returning them to get the 45's. So my advice is this, buy the size you already own and you should be fine. If the chart says a smaller size, DON'T BELEIVE IT! LOL.
sno3245349 (0)
February 26, 2012
awesome shoes
Just got the shoes about a week ago. Still too cold in VT to really test them on the road but feel great on the stationary. Wear about a size 10.5/11. Half sizes were a bit extreme in both directions so risked it with a 44 and the fit is perfect. Love the three straps, less parts to break and the fact that they have replaceable heels. Very happy with the shoes. Can't wait to really test them out this spring.
csc5284987 (0)
February 2, 2012
Great Buy
Stiff, comfortable shoe. Great product at a great price. The triple strap locks them in tight but doesn't cut off circulation, even on long rides. Ordered a size larger and they fit perfectly.
phi4904590 (0)
October 26, 2011
Northwave shoes
Bought the black/red/white fade. Look great. Wished the SBS ratcheting buckle came on these shoes but that would only add weight. Unfortunately the sizing is the worst part of dealing with Northwave's shoe line. I normally wear a US 10.5 which they listed as a 43. Way too small. Ended up with a 44.5 which Northwave lists as a US 11.5. After 3 trial and errors ordering the sizing finally determined the correct size. Order one full size up. The downside of ordering shoes online. Sole and inner liner very comfortable. Plenty of vents and mesh so they're probably more of a summer season shoe.
Pat Mattson (0)
December 8, 2011
Great Shoe
I bought this shoe about a year ago and have about 3000 miles in them. I have done a 7 day tour, a 240 mile 2 day 6 pass ride, a few century's and day in and day out training. I couldn't be happier. I am here to get another pair for next year. They tend to run small so 1 size up is usually a good start. I like the fact that it has 3 velcro straps. It works for me. I have ratchets on other shoes and I cant really tell the difference. I have broken ratchets on my mountain bike shoes and it is nice that I don't have to worry about that if and when I go down.
byron piro (0)
December 15, 2011
Not a climbing shoe
great shoes for a wide foot. But they are HEAVY If you are looking for light weight climbing shoes, have carbon cranks for lightweight, then look elsewhere. at 1 lb 7 oz think of the force needed to get these guys spinning 10,000 times up some big hills. The lightest shoes I could find about 14.5 oz. These come in at 39! Huge difference. In training for RAMROD in Washington state I could tell a big difference in the movement weight required to get these bad boys up the hill. If your on the flats no problem, great fitting shoe for a wider foot. But if your a climber try something lighter like a GIRO
cor5435569 (0)
February 23, 2012
Small
Fit is way small - I'm a 13 and the 46's were not even close.
Cms4896636 (0)
February 4, 2012
Love 'em
Great shoe. Extremely comfy, especially the footbed. Great service from you all too!
ctc5524007 (0)
April 6, 2012
Shoe sizing chart is wrong.
I ordered shoes based on the sizing chart. I take 9.5 and the chart said size 42. Well when I got the shoes andI paying expediting shipping so I could go cycling for the weekend the shoes would not fit. Come to find out I need a 43new size. Be careful of the chart,
Cms4896636 (0)
February 4, 2012
Love 'em
Great shoe. Extremely comfy, especially the footbed. Great service from you all too!
Bozo (0)
April 25, 2011
Recommend, but ..............
Have been riding with these shoes since Christmas 2010. Purchased the electric blue style (discontinued) in size 43.5. They certainly look the part but comfort is average. The right shoe rubbed uncomfortably above the toe (RH side). I've never had issues with cycling shoes, boots or other footwear (inc. hiking footwear) where one shoe fits differently to the other. They have worn in and are okay now. My regular size is 43 to 44 or US 10. The shoes breath well and I have no issues with perspiration or odour. They are very rigid and supportive. At over $300 in Australia, and I only paid $US164 for them, I rated them 4 stars. I've ridden about 3000 km with them and there is no sign of deterioration.