GU Energy Gel - 24-Pack
Get energized with a Gu Energy Gel.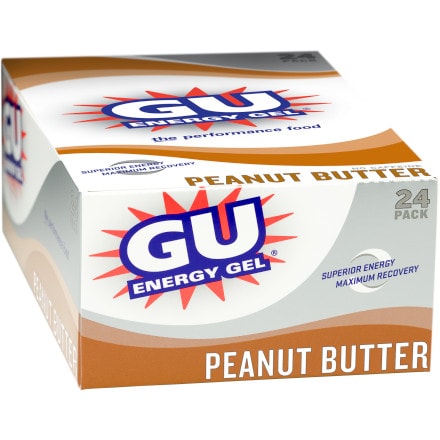 GU Energy Gel - 24-Pack:
GU is a convenient, great tasting carbohydrate gel formulated to energize before, sustain during, and aid in recovery after training and competitions. Made with a unique blend of ingredients, GU provides: complex carbohydrates for sustained energy, amino acids to maintain muscle protein, antioxidants and muscle buffers to aid with recovery and GU's patented herbal blend for enhanced energy production. GU helps you feel and perform your best. GU's unique herbal blend combines the perfect fusion of herbs for energy-enhancement (cola-nut), anti-inflammatory (chamomile), and stomach buffering (ginger). GU contains 20mg (equivalent to 1/5 cup of coffee) per serving from cola-nut. All flavors have the same level of caffeine. The caffeine level in GU is not enough to give a "caffeine rush," but is added to help you utilize body fat as an additional fuel source during activity.
Gu Energy Gel comes in ten flavors -- Tri-Berry, Chocolate Outrage, Espresso Love, Jet Blackberry, Lemon Sublime, Mint Chocolate, Peanut Butter, Mandarin Orange, Just Plain, Strawberry Banana, and Vanilla Bean. They come in a box of 24 gel packets.
Features:
Servings:

24

Calories:

100

Total Carbohydrates:

20 g

Protein:

0 g

Ingredients:

maltodextrin (glucose polymers), filtered water, Belgian chocolate, fructose, leucine, potassium and sodium citrate, valine, natural vitamin E and vitamin C (as antioxidants), calcium carbonate and chloride, sea salt, histidine, sodium benzoate, potassium sorbate, citric acid, fumaric acid, GU Herbal Blend [chamomile, cola nuts (has caffeine), ginger], pectin

Recommended Use:

energizing your life
More Photos: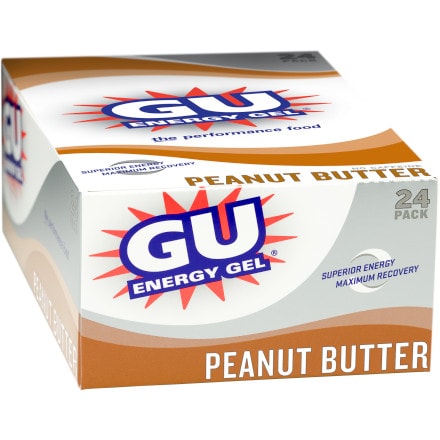 Reviews:
Courtney Dean (0)
March 27, 2012
Easy energy
yeah, they taste good enough. And they're easy to eat with one, or even no hands. usually a sticky mess with the package if put back in your pocket - unless you are DILIGENT about getting all the gu out first, but nothing is perfect.
(0)
March 17, 2010
Top notch for long term endurance
The GU is my absolute favorite energy gel for one reason only, Performance! Control your blood sugar control the bonk monster. GU primary source of carbohydrates is Maltodextrin not sugar. These complex carbs will keep fueling your body long after the sugar buzz of most energy gels and drinks have gone away. Maltodextrin is a bit harder to swallow though and I like to wash it down with water. There is just enough sugar and caffeine to kick in quick. The packaging is great too. For endurance events or group races where reaching into your jersey pocket may not be convenient or safe try taping one or two GUs to your top-tube. Just pull the package at an angle and your GU is ready to gulp. I like the triple-berry but I just tried the new flavor Jet Blackberry. Wow, tasty.
Ted Fundoukos (0)
October 29, 2012
Chocolate Flavor
Very rich tasting. I like chocolate but this is quite the overload of chocolate flavor. I usually need something with chocolate such as nuts. This was tolerable with a lot of water. I liked it as it is not overly sweet.
Johnathan Rambo (0)
August 7, 2012
Metabolism on the go
These work quick! WIthin 10 minutes your body can metabolize these and start converting them into usable energy. The glucose in these are already broken down into simple carbohydrates which metabolize much faster than complex food stuffs giving you the immediate energy right now. I was blown away when I started using these. On ultra runs I could slam 2 of these an hour and keep going for 8, 12 18 hours in a race without actual food stuffs. Like I said it take about 10 minutes for your body to start releasing energy stores. After using them for a while you become more in tune with your body and setting up a scheduled dose. When I am racing competitively on an ultra I usually take in 1 ever 20-25 minutes. During training usually 1 every 45 minutes after the first hour. What I like about them is they give quick stores of energy. They are incredibly easy to digest and soft on the digestive tract (you don't want heavily metabolized nutrients on the go). They are compact and sleek, you can store them every where and they do not take up much room. There is a plethora of flavors at your disposal to ward of monotony. They can be a little pricey when going through a box or two a week, but it all depends on your budget, the type of athlete you are and what your intentions are. Other than that I love it.
Brittany Lefler (0)
July 25, 2012
Good energy, but....
OK, first off, I know that most serious runners are going to disagree with my review but I am hoping that this will at least help first-time users of GU know what to expect. I had my first and last GU during my 1st half-marathon. Hated the consistency, hated the flavor. But, even though I only ate half of it, I have to admit that it did the job and gave me some great energy. I am giving it 4 stars because it does what it should and I know that most people really like them. I just can't stomach the stuff, so keep that in mind if you are like me:) I've tasted a few of the flavors and I would say Chocolate Outrage is the best bet for those with sensitive stomachs because you can close your eyes and imagine that it is some kind of dessert that you WANT to eat and not a thick, gooey energy gel that you HAVE to eat.
DEON NORTJE (0)
April 11, 2012
taste's great
great taste and ease of use makes for a good product.
Ryan Hamilton (0)
July 18, 2011
Great to have
Depending on the flavor these are either great, ok, or terrible. The terrible flavors mean you shove a bunch of ill flavored goo in your mouth. But, the good flavors like chocolate and (the very hard to find) cherry-lime are pretty good. Try a few flavors to find your favorite before you buy a box. Then buy a box, because they're handy to have for training, races, hikes, etc.
Thomas Ogasawara (0)
March 9, 2012
Rockin'
GU is some magical stuff. It might taste kinda weird, but it keeps your stoke level on max when it counts!
Big Papa (2)
January 30, 2011
The Industry Standard
These are pretty good, with a wide variety of flavors to make just about everyone happy, and keep the regular user from getting too bored. The Jet Blackberry is my favorite, but that's just because it has a double shot of caffeine. I love the Roctane GUs, too, for the citrates and aminos, but I just cannot justify the price over the regular GUs, the Hammer Gels, or the Clif Shots. I mean, none of them taste all that great, and all seem to do the job pretty well, so it really just comes down to personal preference. If you want a serious caffeine boost in your energy gel, try the new Chocolate Cherry or Double Expresso Turbo Shot from Clif...100mg of caffeine! The Hammer gels are a nice change, too, with some great flavors like Montana Huckleberry and Banana, but the packaging is just silly big. But I digress... These are the industry standard, and still a solid choice.
Steve Masters (3)
December 8, 2011
stay strong
i'm a huge fan of gu. i will use this stuff on any outing to stay strong all day. unlike bars or other foods, these guys don't get rock hard in the winter, perfect for getting a few extra laps of skiing in. also love them backpacking, easy to store in the hip belt pocket to prevent me from bonking on a long climb. also use them on cycling tours. mint chocolate, espresso love, vanilla bean, and tri-berry are my favorite flavors.
Blder Seven (0)
November 18, 2011
Dessert while you ride
Lovin' the mint chocolate flavor. Took a risk to see if I'd like it and it's now my favorite flavor. Tastes like a grasshopper Girl Scout Cookie and goes down easy too.
Brittany Lefler (0)
November 15, 2011
Great taste, great energy
My husband uses these for long distance runs. They are a little difficult to consume while running, but the energy they provide is amazing. His favorite flavor is lemon sublime.
JWH (0)
March 3, 2011
I got the GU on me...
These things are great...I use them primarily for skiing, and they keep me charging all day. The Chocolate Outrage are the only flavor I've had, and they taste pretty much like chocolate pudding. If you're looking for a good energy gel, these are the best I've had by far.
Erik Blow (0)
May 31, 2011
Energy crisis solved
Gu does take some getting used to, and it is not for everyone's stomach, but I find it to be a solid boot to the system when I want to shut down. I always down one before the Birkebeiner and one halfway at OO, and I can feel the energy coarsing through my body. Combined with clif shots or Hammer Heed energy drink, they get me through anything. Tri-berry is the best flavor in my opinion.
Guy Geva (8)
May 17, 2011
Great one
I use it for the last 4 years now for bike, run, climbing and high climb on trekking. It geave power for 45-80 minute. It can be used in temp of +48C!!!!!!!!!!! and it freeze in +1C (+32F?)
Gone Fishing (0)
December 23, 2010
OK
These taste ok, I can handle the taste of them but they are still not great. I do have to say they are much better than the Clif Bar Gel's, those taste awful. I am a believer that they do make a difference.
Dan Scotina (1)
February 12, 2011
Not bad for a gel
I'm not crazy about gels. I prefer to eat "real" food on my long runs/hikes but gels are a good calorie supplement. They don't take up much space and weigh next to nothing. This is one of the better GU flavors in my opinion.
Chad Boyer (4)
February 10, 2011
Great energy
A couple of these and a clif bar and I'm kicking this pig big time! These are a great quick energy boost with a little water along a long hike. They provide all the electrolytes and energy I need.
Aaron Friedman (0)
November 17, 2009
Lemon Lime and Tri Berry!
I love the affects this stuff has on my body come the need for a third wind. I quite fancy the Lemon Sublime and Tri Berry far more than the other flavors. I most dislike the Chocolate Outrage and find it to be a bit chalky and too thick. I am indifferent to the tastes of the other three. They recommend one every 45 minutes however if you have a well trained body and are eating other foods as well you should be able to use this product much less frequently.
Noah Howell (12)
June 18, 2009
GUUUUUUD STUFF
The first time I heard of this junk I was curious and gave it a whirl. I climbed and skied Shastina and Shasta with nothing but 10 GU, water and a cliff bar in 7hours round trip and felt great. I've been using ever since. This stuff is key for serious energy output endeavors. Mixed with a little real food and water I can go all day long if I pop a packet every hour or so. All the flavors are great except for Strawberry/banana. Taste buds will vary.
AlexZ (0)
February 18, 2010
Takes the Edge off
Chocolate Outrage is great, its like chocolate pudding with some caffeine. When you're just starting to feel hungry or drained take one of these and you'll be good for the next hour if not longer. If the conditions are cold be sure to keep a packet or two on an inside pocket, the cold temps doesnt freeze then but it'll be thicker than molasses
Jan Higa (9)
November 7, 2009
Delicious!
When I'm feeling weak during snowboarding or a day long hike I'll just down one of these with a few gulps of water and it gets me through the day. My favorite flavors are chocolate and espresso. The consistency is like frosting. The power bar ones are gel like and I don't like that as much. Very good chocolate flavor.
Brendan Gibson (46)
September 16, 2008
Zing!
I have very little caffeine in my diet, so when I suck one these down - it does the job! The residue can be a bit sticky - that's the only problem I've had with these. Have used them in adventure trail runs and MTB races.
neb3309665 (0)
January 25, 2011
Seems to work
I've used GU gel packs for years on my mountain bike rides out into the desert. I like several of the flavors and they seem to give me a boost for 30 to 45 minutes - nothing scientific, just a general feeling. They are easy to store, easy to carry and easy to consume. What more can you want?
Peter Gram (43)
September 8, 2008
Love GU Energy Gels
I've tried most of the energy gel brands, and GU is by far my favorite. It has a good consistency, and isn't overly sweet like some other brands. It is much easier to eat a GU every hour while on a trail run, hike, or climb then it is to try to stomach a bar. My favorite flavors are Vanilla Bean, Just Plain, and Lemon Sublime. Some of the others are palatable too. The chocolate flavor is a bit much unless you really like chocolate.
Jutty (6)
October 17, 2008
Perfect mid-race snackage!
Bought these for my kayaker to hang on to for me while doing my 10 mile ocean swim. Worked perfectly, I went with the vanilla, the consistency took a little to get used to and they are really sweet tasting, but other than that they were good, gave me the energy I needed.
Stephen M. Bennett (0)
December 22, 2009
convenient and yummy
great little pick up when you're dragging; I really like the taste of the chocolate, vanilla, and tri-berry
dzakd (0)
April 30, 2010
They work and the taste isnt bad
A gel that does what its supposed to, and tastes decent...what more could I ask for? Personally I like the Chocolate Mint and Jet Blackberry, they taste just fine and are great on the trail. I take one 15 mins before I hit the trail and around 45 minutes into my ride if I feel I could use the boost. Another good thing is a small, simple package that does not get in the way.
Brian Wilson (10)
July 14, 2010
Fills the gaps
Great for short trips and to fill the spaces between on extended forays. On long days I prefer Hammer Perpetuem and add a GU here and there to keep my energy up if I get behind on calories. GU goes down easy and burns hot. I have had zero stomach issues as long as I drink plenty of water with each packet and stay relative hydrated overall.
tlsamson2312797 (4)
July 18, 2008
delicious when you're overworked
I had these while marathoning and they gave the extra punch i needed. goes down easy with some water. They work best and taste best during hardcore workouts.
Jessica (5)
August 15, 2008
Easy
The little packet fits perfectly in the key pocket of my running shorts and it goes down real easy with a gulp of water. Not as salty as other gels. Gu is getting me through my marathon training.
Cecilia M (39)
August 30, 2008
No Bonk Here
These are the best "no bonk" gels around. I think they tast better than the Cliff Shots too - not so thick.
(0)
December 6, 2009
quick/easy carb source
i use these for trail races for an easy and quick carb source. usually i eat one about 30 minutes before the start and then another every hour of the race in conjuction with my electrolyte drink. works really well, also handy for climbing/hiking and mountain biking on activities over an hour or two.
Courtney Dean (0)
October 19, 2011
Taste great.... and filling!
A few of these either in pockets or pinned to your clothes is an ideal system for getting from point A to B without bonking in the middle. They're easy to open with one hand and a mouth and can be eaten all in one gulp or "slurped" on for a few minutes. The flavors aren't going to blow you away. They won't replace a snickers or swedish fish in that category. But they're made with good stuff and definitely are tasty enough. I pack them on hikes, alpine tours and any other activity where weight, convenience, energy, etc. are an issue.
Greg Goodson (22)
May 7, 2008
In my opinion the best gels hands down
I had Gus years ago and didn't like the taste of them. I gave them another shot about 6 months ago and have been hooked - the triberry is excellent, and the lemon sublime tastes like lemon filling from a pastry from Dunkin Donuts. Mmmmmmmm - I look forward to eating Gus during a race now!
Tommy Chandler (40)
June 11, 2009
The Best Gel
I'm one of those poeple who actually really likes using gel, and this is the best I've found. My favorite is the Chocolate Outrage, and I use it for biking, trail running, climbing, bouldering, etc etc. It really works and keeps energy levels high and for sure helps out performance.
stuartnate1978518 (1)
September 25, 2008
Dig it
Taste is iffy, but its worth gritting your teeth for. THis stuff is great
BRP Trail Rider (2)
August 30, 2008
Good Stuff
I've been using these on biking, skiing and dirtbiking and they Espresso Love is great. I ussually have one an hour.
Christian Paul (184)
September 18, 2007
This is the fuel that will get you that summit!
I down one of these with a 16 OZ glass of water before I head up to summit anything. this gives you an incredible amount of energy with out the muscle cramping and overtired feeling you get at high altitude. These do not taste bad at all, my favorite being the berry. If you need that extra gas to get up the hill, GU is for you!
(0)
September 20, 2008
Better than others
These little packs tend to bang around in one of my backpacks or camelbacks and the packaging doesn't get holes like others. The tri-berry is the best tasting of all the brands and GU stuff doesn't seem to take as much water to wash down.