Assos Sponsor Yourself T-Shirt - Short-Sleeve - Men's
More than just a t-shirt.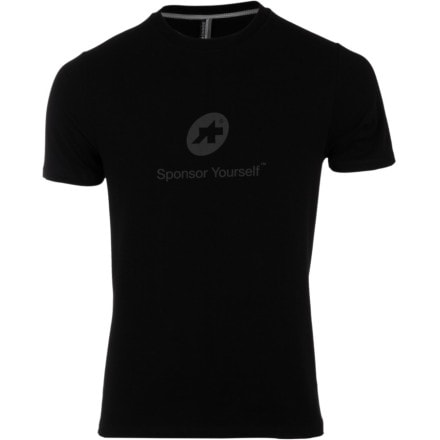 Assos Sponsor Yourself T-Shirt - Short-Sleeve - Men's:
No one obsesses over the details more than Assos, and this is ever-present in its signature collection of accessories. We love the way the Swiss brand takes what many would simply call "the basics" and makes them anything but. Such is the case with the new Sponsor Yourself Men's Short Sleeve T-Shirt, as this casual top was constructed to be super comfortable and functional for all of your adventures away from the bike.
Made from a cotton and elastane blend, the t-shirt feels like your favorite everyday casual top, but with a bit more stretch. This makes it perfect for the person who's just as likely to go for a quick beverage run on the commuter as he is to take it easy on the sofa after a grueling 6-hour training ride. Regardless of what you do in the shirt, you'll remain comfortable and look Assos-sharp.
The fit of the t-shirt is fairly relaxed, and the finishing details include smoothly-stitched cuffs, neck, and hem, as well as subtle logos across the chest.
The Assos Sponsor Yourself T-Shirt - Short-Sleeve - Men's is available in seven sizes from X-Small to TIR and in the colors Black, Grey, and White.
Features:
Material:

90% cotton, 10% elastane

Fit:

regular

Recommended Use:

casual

Manufacturer Warranty:

limited
Sizing Chart:
Assos
Men's Apparel
Shorts
XS
S
M
L
XL
XLG
TIR
Leg & Knee Warmers
0
I
II
Height
4ft 11in - 5ft 2in
(150 - 159cm)
5ft 3in - 5ft 6in
(160 - 169cm)
5ft 7in - 5ft 10in
(170 - 179cm)
5ft 11in - 6ft 1in
(180 - 185cm)
6ft 1in - 6ft 3in
(186 - 190cm)
6ft 3in - 6ft 5in+
(191 - 195cm+)
XLG but wider
Tops
XS
S
M
L
XL
XLG
TIR
Arm Warmers
0
I
II
Chest
35.4in
(90cm)
37.8in
(96cm)
39.4in
(100cm)
40.2in
(102cm)
43.3in
(110cm)
45.7in
(116cm)
46.5+ in
(118cm)
How to Measure:

For best results, take measurements over your underwear.

Chest:

Measure around the widest part of your chest.
More Photos: