SRAM Red 22 Hydraulic Disc Brake
Get some serious stopping going.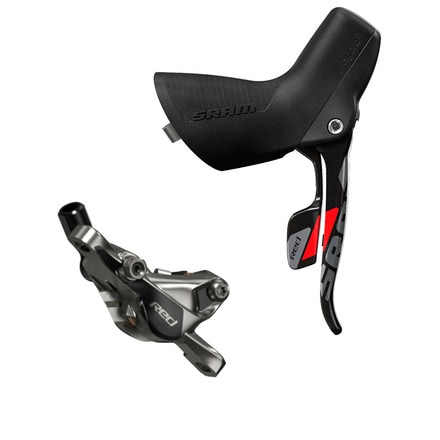 SRAM Red 22 Hydraulic Disc Brake:
When it comes to stopping, the SRAM Red 22 Hydraulic Disc Brake system gets it going. Rivaling the power and control of even the most advanced mountain biking disc brake systems, Red manages to be lighter and tighter for 2015 while addressing the thorns of the first-generation system. With the new Red 22 Hydraulic Disc, you're not stepping — you're leaping into the future of road and cyclocross braking capability.
To reboot its original road and cyclocross hydraulic braking systems — which were already ahead of their time — SRAM pulled apart every molecule of their anatomy to find room for improvements. The lever body, housing the reservoir and master cylinder, was reconfigured for more efficient internal spacing while at the same time boosting strength and stiffness, resulting in solid, consistent performance, regardless of braking or weather conditions. The master cylinder piston itself was also completely revamped, receiving an all-new bore design and new seals, after being subjected to thousands upon thousands of testing hours in every temperature and performance setting imaginable. The goal was absolute reliability, and the new system delivers.
SRAM was far from finished with updates, however. The new higher-capacity fluid bladder — the part of the system designed to maintain braking feel and consistency in compensation for pad wear — was also redesigned to improve fluid flow, so your brakes feel as great brand new as they do after a season of racing. On the action-end of the line, the caliper spring was re-engineered for more even pad contact and smoother retraction, translating into more consistency and control in hand, regardless of riding conditions. Finally, the shift paddles were trimmed slightly to be both lighter and more ergonomic, and cyclocrossers especially will appreciate the new shape that allows for greater clearance when wearing thicker gloves.
Compared to the more value-oriented Force and Rival systems, the Red hydraulic system is no-holds-barred. Both the brake and shift levers are full carbon, as opposed to the alloy bits used in the others, and where stainless steel hardware is otherwise employed by the less expensive versions, Red uses titanium from top to bottom. The system is fully sealed and easily serviceable, too.
The SRAM Red 22 Hydraulic Road Disc Brake is sold individually, in either left-hand or right-hand versions, so purchase one of each if you'd like a set. Each unit is pre-bled and includes the brake/shift lever, hosing, and caliper. Rotors are not included, but SRAM strongly recommends using its Centerline rotors — 160mm for road applications and 140mm for off-road/cyclocross use. The system weighs 449 grams per wheel, including a 160mm Centerline rotor.
Features:
Lever:

carbon fiber

Lever Adjustability:

yes

Actuation:

hydraulic

Mount Type:

post

Pre-Bled:

yes

Rotor:

not included

Rotor Size:

[road, recommended] 160 mm; [cyclocross, recommended] 140 mm

Claimed Weight:

449 g

Recommended Use:

road, cyclocross

Manufacturer Warranty:

2 years
More Photos: