Continental Grand Prix 4000 Tire
Color up your ride so they can see who's breaking away.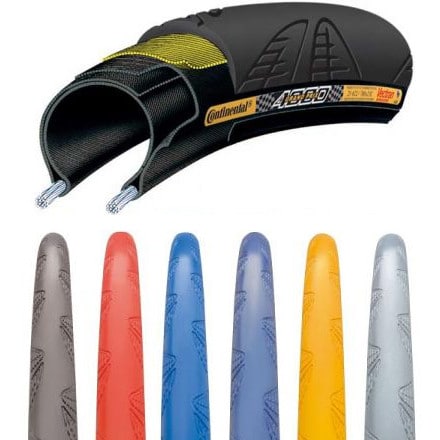 Continental Grand Prix 4000 Tire:
Flash your team colors with the vibrant Continental Grand Prix 4000 Clincher Road Tires, without sacrificing any performance in the peloton. Activated silica in the Grand Prix 4000's rubber compound increases grip under stress while retaining a light rolling resistance on long straightaways. Under the tread, a layer of Vectran fibers originally developed for automotive airbags provide unmatched tear and slash resistance while adding almost no weight.
Features:
Material:

(black) black chili compound, Vectran fabric, rubber

Bead:

KEVLAR®

Foldable:

yes

Weight:

205 g

Recommended Use:

road cycling, training, racing
More Photos: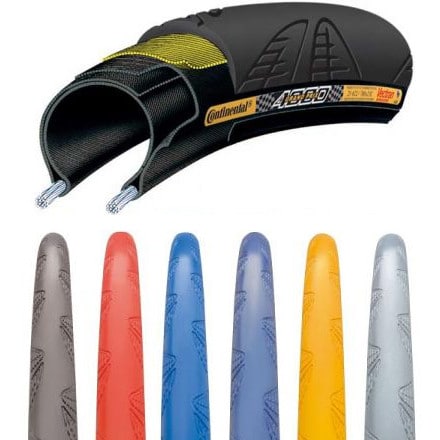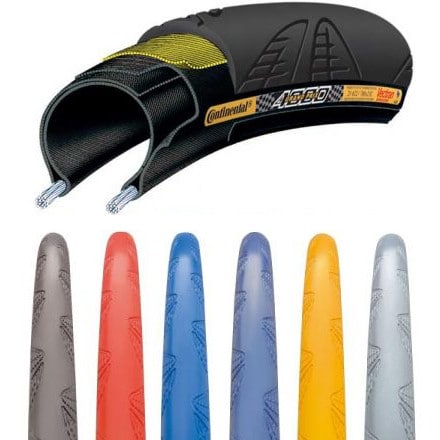 Reviews:
kbbpll (0)
January 28, 2012
Dilemma
I have to give these tires a good review. Continental as a brand has been reliably excellent over the years. I have a pair of semi-slicks that I put back on my old Trek 950 mtn bike, and I toured Tasmania on them in 1995. Not a hint of dry rot after 17 years. I still have a pair of GS 1000 on my "vintage" bike, being abused on the trainer. There are some strands of sidewall, but heck, those tires go back to the previous millennium. I rode with a buddy on my GS4000's a couple weekends ago and it snowed heavily on us at the end, roads were wet, we descended 20% at high speed (45-50 mph) and he remarked that it was sketchy, but I didn't even notice. This on a two year old pair of 4000s with 3k miles on. Yet, on the negative side, the sidewalls are suspect. I kicked a rock into the previous pair that left an aneurism where the tube poked out, and the last pair had the same thing happen. So I switched to Vittoria Open Corsa Evo CX, and on the first ride I thought, wow, so supple, smooth, and kick-ass in the corners. Bottom line is that with the GS 4000s, your mileage may vary.
joh3775826 (0)
November 15, 2011
Look no further...
I rode 3000 miles over 5 months on these on all types of roads, pot holes, repairs etc, and nothing stops them. I don't race but I ride hard and these can take anything I throw at them. Extremley durable. You can find lighter tires, yes, but not more durable. Hang tough on curves with speed. They are easy to slip on too, no tire lever needed. The money is well spent on these.
Michael Kosta (0)
July 13, 2011
This is your race tire.....
This is my go-to RACE tire. There is NOTHING that compares to it on the course, be it road or crit (Attack/Force tires for time trial). I push/pedal through most corners of a crit, even riding fast through a turn at the bottom of a HILL; these tires GRIP! I don't need to be worrying about them "letting go" at the apex of the turn. I have never had one even hint it is not sticking to the road. Durable and easy rolling during a road race. I have never flatted during a race. I love this tire. One set usually last me one season of racing. I get a new set at the beginning of the year but not because they are worn out. I just feel better on a new set.
Ken Richard Lyngstad (0)
April 11, 2012
Top Notch !
Hey, if anyone's in doubt, then I assure you Continental Grand Prix 4000 is the best tire you'll get. It's not without reason that so many people claim this is the tire that sets the standard for everyone else who's trying to make good tires. The grip is absolute top notch, and whether it be dry or wet and slippery roads, you can relax and really trust this tire when speed is high and when you're going into sharp turns. Far as I'm concerned it's very durable as well, so it lasts a long time. Also, I always use these tires on my road bike and I can't even remember the last time I had a flat. For me there's simply no other tire anymore; not for training and not for competitions. Just a shame it's out of stock.. Hopefully new stock will come in soon and in various colors
aaron.lapo567275 (3)
June 2, 2009
Black with Reflex not as pictured
Just a heads up the black with reflex isn't as pictured, it has a reflective stripes on the tires that aren't in the picture. Cool if you want it, not so cool if if you don't.
Gregg Stepan (0)
February 2, 2011
4000s is great but I had an issue
I had the 4000s for about 10 months. They were the best feeling tire I've used--felt very grippy in turns, but not slow otherwise. They did not wear quickly either, and they are pretty light. Used at the 120psi max recommended on the sidewall. However, I had casing threads start to come off of the tire down by the bead and going around the tire. My brakes were never rubbing on the tire (I'm a former shop mechanic), so it seemed to be just falling apart prematurely. The bike shop juys said it was an issue they'd seen but not structural, but it still had me worried about a blowout, so I switched tires. I wish I felt comfortabel keeping them on there longer.
steve2296010 (0)
January 31, 2011
Bait & Switch Price
In my view, pricing one odd size or color of an item 20% lower than the rest of the lot and quoting only the lowest price in the link on the Bonktown site is a bit of a bait & switch. I'd prefer more straightforward pricing. See also several listings for bib shorts and jerseys.
bwilk (1)
January 7, 2011
the best around
I just bought six of these tires to replace all of my old worn out rubber. I don't think I would be buying that many of them if I didn't have confidence that they would be the best all around tire out there. You can get a lot of miles out of them and they are fairly puncture resistant.
Returns Rob (4)
October 17, 2008
Yet another blown sidewall...
I was used to buying cheap tires and replacing them whenever necessary...but then , one day I decided I was going to bite the bullet and get a set of nice tires, yes, the Grand Prix 4000 Clinchers. That was two months ago (maybe 1000 miles)I have since blown two sidewalls, both times were on the rear...now I am stuck with a single "high end" tire in the front and a "back to basics" tire in the rear. I have since been using the Hutchinson Equinox (HUT0030) on both my bike and my wife's, and it has performed almost as good as the GP 4000's and I have yet to replace one.
(0)
March 3, 2010
Crème de la Crème
Don't be fooled by imitations, this is the tire that all others attempt to live up to. Over two years on these and I have no complaints.Build Quality is awesome.Ride is awesome.Wear is ridiculously good, especially in Black Chili.Dry/Braking traction is good.Dry/Cornering is so predictable you know and learn to trust the tire like no other.Wet/Cornering, Yes I am not kidding you can go race pace into the wet corner. Unbelievable.Fit and finish is great.
Aidan M. (0)
November 17, 2009
Review Title
best tire on the market. light, very durable and highly puncture resistant. cant say enough good. oh theyre easy to install
Dave Peck (31)
September 1, 2009
Gold standard
The best all around tire for training/racing. Unless you have SAG support with spare wheels at all times, you don't want to be flatting during a race (well, ever, really...). For the light weight and good grip these are tougher than an armadillo. Great longevity and great flat protection. I'm still not sure the difference between the 4000 and the 4000S (my tires last year) but either way you can't go wrong.
Parker Dougherty (3)
August 29, 2009
Good All Arounder
These tires have great grip with low rolling resistance. Gotten lots of use, probably over 2000 miles and still going strong. Tires are always easy to unmount/mount on the wheel. If you like these consider the 4000S.
Spiker (4)
August 25, 2009
Worth the money
A very durable high performance tire. They are a legitimate 23 not a 21/22 labeled a 23 so the lightweight doesn't compromise the ride. The tire wear indicator is a nice feature to have. I've put 3000km on mine without a flat and minimal wear. I think they will be good for 6000km+. They are very difficult to mount the first time. I don't know about the 2nd time because I haven't had to re-mount them.
MtnARM (0)
September 29, 2009
Great set of tires!
These are great tires for the money! They ride extremely nice! I had some GP 3000 before and these are an improvement on an already nice tire.
Ben Skutnik (2)
August 17, 2009
Solid tires
Just did a half-iron this past weekend with these tires. It was pouring rain and 30 mph winds and my bike handled just fine. These tires are awesome!
Andy Chasteen (44)
December 3, 2008
Good tire
I have had no problems with this tire at all. I ride it on all my bikes, and get good mileage from them. I hit speeds of over 50 mph regularly on downhills and thankfully these have held up nicely. I'm also a heavier rider at 220.
snwbdrhoon (18)
August 25, 2008
Awesome tires. But not cheap.
These are awesome tires. I bought them for my wife's bike. They are great, look awesome and PERFORM. Just be careful. She sliced the sidewall within a week and we had to get a replacement. The replacement is working fine. Didn't have any major flat issues, but a sliced sidewall in a week is a tough hit at $60 a pop.
flan-man (7)
July 10, 2009
Good summer everyday tire
Excellent grip on dry, ok grip when wet. Continentals tend to run small so I'm running the 25s as everyday commute/training tires. They're pretty lightweight and roll well. The 25s are definitely slower than many of the 23s I've run over the years, but are a nice compromise with more ride quality. These tires are predictable and stable in the corners, which is my big complaint with the panaracers i've tried. These GP4000s have lasted well for training miles, and I'll likely get them again (maybe in a 23). In the winter/wet I switch to Continentals 4season.
jontu (4)
March 10, 2009
Pretty awesome
These tires are very puncture resistant and the cornering grip and road feel is superb. That is a super-rare combination, as usually tires hard enough to keep debris from penetrating are too hard to grip corners effectively. Big ups to Continental for that. I've been running these in the 700x23 size for three seasons now and my milage has varied by a lot. I had one tire go for over 4,000 miles (I rotate them every 1k miles or so), another one I trashed in under 1k miles due to cuts in the rubber caused by road debris. Wear indicators are molded into the tire, which is a nice plus. These are as good as anything I've run in the rain, but they really shine on dry asphalt. I'd say the optimal situation is swapping these out for something tougher in the winter and early spring, as this is a very expensive tire to trash in the sand and salt. But for summer, they are pretty much unbeatable, which is what you'd expect out of a $60 clincher.
phil100165481 (1)
September 14, 2008
The Cal Ripken/Brett Favre of bike tires
A star is born. Backcountry got these tires to me in 4 days, and I live overseas. The tires themselves are fantastic. I ride about 400 km per week and change them when they look worn. . . which isn't often.
Matt Royal (2)
July 22, 2008
RE: Best Tires Ever...
Quote: "I've got these on 2 bikes and the GP 4000s on one bike. I can't tell too much of a difference with the 4000s vs these but either way these are the best tires." Answer: All Conti GP 4000 tires are the same tire. The GP 4000 is available in a variety of sizes and colors, the GP 4000s is available in 700x23c (23x622), Black/Black only. All GP 4000 tires with black tread feature the Black Chili Rubber compound, the colors do not. These are really good tires.
pete e (17)
May 31, 2008
Best Tires Ever...
I've got these on 2 bikes and the GP 4000s on one bike. I can't tell too much of a difference with the 4000s vs these but either way these are the best tires. I've tried other brands but Continental is always going to have my business. Knock on wood these don't flat as easily as any other tires I've tried.
Steve Brain (23)
May 8, 2009
Benchmark
These are the tires that I compare others against. Never been disappointed - lightweight but pretty bomber also. Normally run mine with latex tubes. I'm 195lbs and have had no durability concerns with them.
jcg2754581 (2)
August 7, 2009
Nice Ride
Great ride quality but what I ran into after a few rides are flats. The tire in my experience has some puncture resistance but nothing close to gator skins or other comparable brands. If your using these on streets where there isn't much glass you should be safe but check the tires after your rides to remove anything sticking in the tire and replace after you start seeing cuts in the top rubber to avoid unnecessary flat stops.
Kendall Card (49)
May 23, 2009
Top performer for many many miles
When I bought my Kona Zing Supreme it came with the Conti Grand Prix 4000 tires and I didn't think much of it. 4 seasons later and now I'm on my next bike I'm sold on the durability and performance of this tire. I average 900-1000 miles on this tire (I'm 210 pounds) and rotate them in the middle of that to maximize life span. It grips well on corners and I rarely flat out - they are tough. The colors are flashy and add a nice touch. Seriously I should stock up on this tire and you should too.
Justin Henderson (0)
May 14, 2009
Great tires!
I have put around 2k miles on these guys. I do think the color makes them wear down alittle more. I do love the way they look on my bike though.
jahteachlo2220175 (1)
February 28, 2009
perfect for commuting
i commute 200 miles per week, the 25mm is perfect. they deal with the debris that is always in the bike lane with ease, never flat. they are pricey, but good tires are one of the most important components. may the wind be at your back.
cody humphrey (5)
February 22, 2009
Rock Solid
I've got over 2K miles on these tires now. No issues whatsoever. I just bought an extra set for backups. They roll well, grip the corners, I don't notice them at all. They are a bit pricey, but if you can find them on sale, they are worth it. I'm 270 and ride the 25mm tires, and they give me a relatively comfortable ride at 115 psi.
Justin Henderson (0)
August 28, 2010
Awesome!
These tires are awesome! I don't think I've ever owned a better set. The only downside is that they seem to wear down fairly quicker than others i've owned.
Frank Y (4)
January 24, 2009
Nice to an extent
I've ridden these tires for about 1K miles now and, they hold up nicely but have a problem with punctures. I don't know if it's just me but within the first 100 miles, I got 4 puncture flats. Two on the same day! That warranted a two star rating; at least they rolled nicely and were grippy. After the rest of the mileage, though, they started to break in some more and got even better road feel, but the best part was that I haven't encountered a flat since.
Desert Backpacker (88)
July 9, 2008
I really like these tires
These clinchers are great for the roadies and for the bike commuters looking for less rolling resistance and more speed. The colors just serve to make the ride a bit more stylish.