Honey Stinger Protein Bar -10g -15 Pack
Honey is the sweet solution.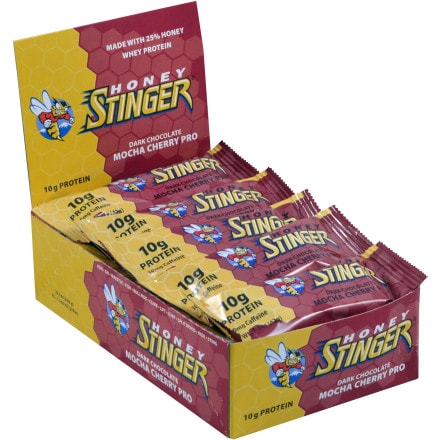 Honey Stinger Protein Bar -10g -15 Pack:
Honey Stinger's 10g Protein Bars are about half the size of their 20g Protein Bars hence they have half the amount of protein. It goes without saying that the rest of the nutritional information reads at roughly half of the bigger bar. This makes them a better snack size if you don't like to have big objects in your jersey pocket, or if you simply don't need that much food on your training loop.
The more interesting comparison is to Honey Stinger's Energy Bars. They're similarly sized at 50 grams compared to the 10g Protein Bar's 42g total, and they both have 10 grams of protein. However, the Energy Bar has half again the amount of carbs -- 28g compared to the Protein Bar's 18g. So the choice is yours to make depending on your preferred ratio of carbs to protein.
Like the Energy Bars, the Honey Stinger 10g Protein Bars use nature's energy food, organic honey, as the carbohydrate source. The part that makes honey great for endurance athletes is that it's a just right 1:1 blend of fructose and glucose, two simple sugars that enter the bloodstream quickly to give you a rapid energizing effect as you exercise. They also include whey protein. It's known to have the highest bio availability, so it also acts fast to work for your body. This protein is necessary for muscle recovery after strenuous endurance exercise. But did you know that protein can keep your body from cannibalizing itself during prolonged activity? In addition to burning the stored glycogen in your muscles, your body will get 10-15% of its energy from the breakdown of amino acids in your muscles. You can avert this gluconeogenesis (sounds bad doesn't it) and the weakened, sore muscles it causes by providing your body with protein as part of your endurance fuel.
Honey Stinger 10g Protein Bars come in a box of 15. They're available in four flavors -- Dark Chocolate Cherry Almond, Dark Chocolate Coconut Almond, Dark Chocolate Mint Almond, and Peanut Butta.
Features:
Calories:

[Dark chocolate coconut almond] 190; [Chocolate- coated peanut butta pro] 180; [Dark chocolate cherry almond] 180

Total Carbohydrates:

[Dark chocolate coconut almond] 18 g; [Chocolate- coated peanut butta pro] 19 g; [Dark chocolate cherry almond] 19 g

Protein:

[All flavors] 10 g

Sugars:

[Dark chocolate coconut almond] 15 g; [Chocolate- coated peanut butta pro] 17 g; [Dark chocolate cherry almond] 16 g

Weight:

[per bar] 2.1 oz; [15 Pack] 2 lbs

Recommended Use:

backpacking, biking, running, everyday
More Photos: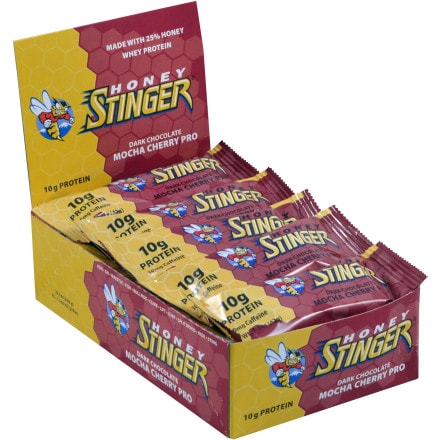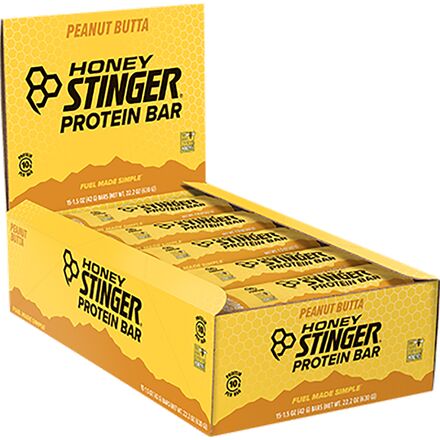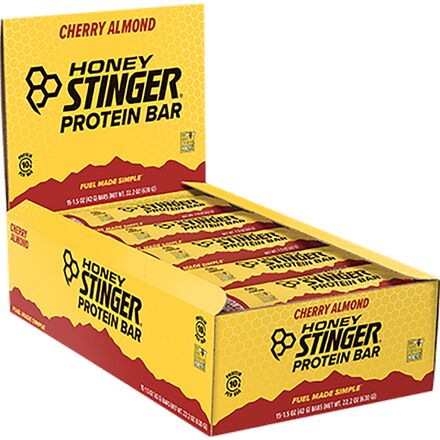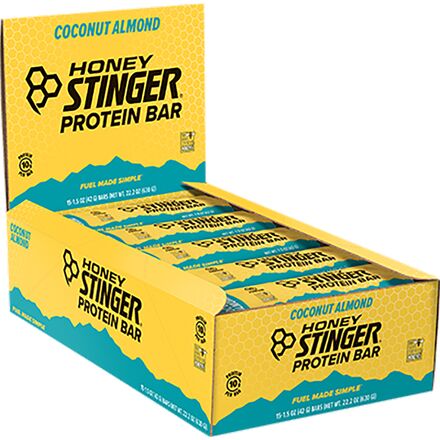 Reviews:
JWH (0)
March 17, 2012
Best protein bar out there
These things are great...they're a good size for packing, they've got what you need to keep you going, and they taste AWESOME. They're not just my favorite protein bar, they're one of my favorite foods. The chocolate mint are the only ones that I buy, but the others are very good as well. I recommend these to everyone...
Molly (0)
March 31, 2010
Finally - a protein bar that tastes REALLY GOOD!
Hands down, Honey Stinger has the best tasting protein bar out there. They're great to take along hiking and cycling, after a workout, or for healthy minded people who want a protein bar that doesn't taste like cardboard. They have a nice texture, great taste and really deliver! Enjoy. . .
Karen Potter (0)
March 30, 2010
I do really love them.. yummy
Honey Stinger's Peanut Butta Pro protein bars are absolutely delicious. I got my first box of them about a month ago and am lucky to have any left. They're as tasty as a candy bar but far more healthy – packed with 10 g of whey protein (or a 20g version), lots of organic honey, and other essential vitamins and minerals. I love them and tell everyone about how good they are. I had to restrain myself from eating them all up as dessert, although they're probably a much healthier choice. The flavor is great and the consistency is creamy, which may make it a bit difficult to take on hot summer rides without it some melting, but it might be worth it. The 20g version can definitely be eaten as a meal replacement or a pretty stout snack, post ride/workout or just about anytime.
Chris Larsen (0)
March 30, 2010
Great pre-race meal/snack!
Personally, I'm always searching for ways to optimize my training as well as nutrition. The Honey Stinger Protein bars have helped to fill a void in my nutrition 'arsenal'. After years of eating energy bars on and off the bike, these bars provide a tasty, healthy alternative as they are sweetened with honey and have a lower glycemic index than bars with less protein and fat. These are my new pre-race meal (usually with a banana) about 3 hours before a long ride. I used this formula without fail for every long ride or race I completed last year and eliminated the GI issues that seemed to accompany other options. Now with the new smaller size, I have a great option for a snack in the afternoon or a pre-ride meal when I want to keep my blood sugar stable (devastatingly tasty with a cup of coffee!) . Even my picky wife has now made these her choice over Clif's Mojo bars. An added bonus, for my fellow Primal eaters is that they do not contain grains. Enjoy!
Jeff (0)
March 29, 2010
great bar
great bar - use 'em for recovery after rides. Tasty and filling.
Tim Mahoney (0)
March 29, 2010
A Great Quick Recovery Bar!
I really count on the Peanut Butter Pro Bar after hard work outs and long races especially on the ride home. They taste great and go well with a good cup of coffee after a early morning effort too.
Steven Thompson (0)
March 29, 2010
awesome all around bars
I have found these bars to be great for so many purposes from during an extended activity to a in between meal and even a simple sweet tooth fix. they keep you satisfied for a good amount of time and you cant beat the taste.
Mark Jellous (0)
March 29, 2010
Honey Stinger protein bars
Love the 10g option. Was using the 20g, but sometimes too much for an on-the-go fueling. The smaller size is perfect for pre/post-race or an energy top up on long rides!
Tecnu Extreme/StaphAseptic (0)
March 29, 2010
Honey Stingers protein bars..
Ok, so we all use some form of protein, whether whey powder, protein bars, shakes, you name it. And they are all different. Some are good, some are not, some are tasty, some taste like cardboard, some work to fuel your body and help it re-cover, and others do not. so in saying all of this, I take my bodies fuel VERY seriously. As a professional adventure racer, I need my body to recover, and to have fuel when I need it, and it needs to be in the form of a product my body can stomach, can use, and can rid itself of aftrer its done. Honey Stingers protein bars rock. i love the taste, how quickly I can absorb them and use them. They are my bar of choice, and trust me, I have used them ALL. You should make it your mandatory gear when you go out and play. stay safe and sane. Earring Doug-Tecnu Extreme/Staphaseptic adventure racing team captain
any2438668 (0)
March 29, 2010
Race Team
I run a mountain bike race team and currently have 19 riders on the team. As a whole we use quite a bit of the Honey Stinger products, one of our favorites are the chews. Quite simply there the best out there. They don't get sticky or melted with body heat and taste fantastic, hard to stop after one bag. The protein bars come in two sizes for ease of use, you don't have to try and save half a bar in your pocket, just take the 10g bar. The flavors are great and the energy is long lasting. As a team we go through quite a few cases of the chews, gels and bars on a regular basis. Let's keep the Bee's busy. Get your stinger on.Thanks, Robert Niemeyer, Team & Club PresidentSkeleton Crew Mounatin Biking
Sandy (0)
March 29, 2010
Great bar!
I love these bars for distance cycling. The smaller size is perfect - it packs just a little less than 200 kcal into a very neat, tasty package. I like the cherry-almond-dark chocolate so much that I'd never considered trying another flavor. Recently I tried the coconut and really, really like it, too - not an overwhelming coconut flavor, just enough to be interesting and different. I love the double-sized bars, too - but sometimes they're a little too much to handle in a sitting, especially when I'm on the go. They're going to be a staple for my Race Across AMerica attempt this June!
Aaron (0)
March 29, 2010
Great all-around bar!
These are my go to bars for everything. I was first introduced to Honey Stinger during the Portland Marathon. Their gels and chews are great and I still use them for all of my races. They just recently came out with their protein bars and I'm glad they did. My wife and I use them for snacks, a quick breakfast, and for all of our outdoor adventures. They're great for hikes and long backpacking trips, and I wouldn't be caught out in nature without them!
michael (0)
March 29, 2010
grest stuff!
I use these bars for cycling, snacking, recovery, or anything else! They fill you up and give you everything you need. Whether it be for a century ride, to satisfy a hunger pang, or for after a good lifting session, you can't go wrong with one of these.
flying_fletch_1092348133 (0)
March 29, 2010
amazing
For before and after they give you the boost that you need and will get rid of any bad feelings in your stomach before or after a race!!! AMAZING
Matt Smith (0)
March 29, 2010
The Best Protien Bars on the Planet
These are the only protien bars you can literally eat like a candy bar and NEVER get tired of. The texture feels and tastes like real food and you really can just keep eating them all day. I use them for Ironman racing and they are good on the stomach for a hard effort, filling and keep you going!
stephen forster (0)
March 29, 2010
Honey Stinger Protein Bar -15 Pack
These protein bars are where its at, They provide alot of protein, not to many calories, and energy that will fuel you for the whole day, definetly a must buy.
james (0)
March 29, 2010
yummy honey
i really like these bars, i find them to be a little more filling than other bars and the taste and texture is pretty good. you can really taste the honey. the honey peanut butter and the dark chocolate cherry are the best in my opinion. a word of advice - the chocolate coating melts in your jersey pocket on hot rides!
Mike (0)
April 1, 2010
yum
These bars have great taste and texture. Not your average protein bar. Easy on the tummy after a long ride where you are too dizzy to eat anything else! I've switched over to all honey stinger for before, during, and after my racing. Check out the gels and energy bars too. Go natural!
vidrichards (8)
August 14, 2012
Chalky, but still a Stinger
Smaller bar, which is good, imo, than other massive, hard-to-eat-in-one-sitting protein bars. Mint flavor is subtle.
lisaoutdoors452269171 (2)
June 26, 2012
Really as good as everyone says!!
I really like this bar!! It has thin coating of dark chocotate that hits just perfect on every bite. It does taste more like a candy bar, but not sickening sweet. I usually do not like any "energy bar" but keep trying them. Really glad I tried this one.
Chad Holderbaum (0)
March 29, 2010
Honey Stinger Review
Honey stinger bars are my favorite. Especially the protein bars. I always have a spare bar on me for after those key workouts. Plus they just taste great!!!
Ray4574360 (0)
June 25, 2011
Back of the Shelf?
I've got to start by saying that the dark chocolate mint almond pro is the best of the best when it comes to protein bars. the flavor is all there, the texture is "not chalky," and the bar just all around delivers, normally. But in my last shipment things were a bit sketchy. i could see that the box was a little worse for wear. When I opened up a bar and took the first bite, something was wrong. The bar was hard and chalky. When i checked the box for the sell by date, it read: Sell By June 29.Hopefully this was a fluke but it still hurts to trash twenty-five dollars.
dra3076841 (0)
June 15, 2011
Good.....but
...careful to read the label...the first order was 20G of protein, the 2nd was only 10G. Otherwise good product for a good price.
ybe4024515 (0)
June 2, 2011
Leftovers?
I just got two boxes of these bars (via Steep and Cheap which is part of Backcountry.com). One box had an expiration date July 19 (1.5 months from now), the other was mismatched (the bars were Coconut Almond but the box was for the assorted bars). And, of course, both boxes were crushed. Is this site selling leftovers?
cam4114724 (0)
May 4, 2011
love them
comes up on steep and cheap not a big eater first thing in the morning so i love munching on one of these come 11 on the chairlift on a pow day i'll have another come 2 and im good. i probably rock them at work to come summer. keep me off the timey-ho's breakfast bagel and Coffey come 10..... oh and there not like the cliff / pro where you need a bottle of water just to get them down
Monkeybar (0)
January 12, 2011
Stinger fan
I will order another box since the taste is so good. If you are sick of the taste of those other bars you should try this brand. Organic and gluten free honey! I ordered the dark chocolate coconut and you can hardly taste the coconut.
swi4272990 (0)
January 7, 2011
Awesome!
These bars have great flavor. You would never know that they are "protein bars". The tastes are distinct and real tasting, none of the fake/plastic taste of some of the others on the market. There is none of the gritty grainy texture either.
Christophe (5)
December 6, 2010
yummy bars
these bars are yummy and feel easy to digest at the crag. they gave me some energy back throughout the day, i could really tell.
str3119492 (0)
October 28, 2010
Honey Stinger
These things are great. I first tried them stateside while shopping at REI, sorry BC, you don't have a store for me in Seattle, and was hooked. Just ordered the coconut almond and the peanut butter and I need to put a lock on my food bag as I could eat them all in a day, they are that good! Great as a pick-me-up in the a.m. afternoon, whenever. One of the best tasting energy bars out there. Another homerun for Backcountry!
Backside Special (0)
April 5, 2011
Gotta love the honey!
Really good, very filling, lots of energy and enough sweetness to make it taste more like a candy bar than a protein bar. The sweetness from the honey is a nice change up from typical bars and they are very smooth and not grainy like some bars.
enedwa01803793 (4)
April 21, 2011
peanut butta
good bar, very dense. not my favorite but tasty protein
har5a1988783 (0)
April 13, 2010
The Best Bar Out There
These are amazing i love love love them! Perfect as a light meal in the Am before a run. Or as a post workout snack. They taste like a natural food not a processed protein bar. And they break down the middle like a kit-kat if you just want to eat half.
Chad (0)
April 12, 2010
Great fill me up!
Wow these are yummy! I could probably eat them every meal of the day if I needed that type of caloric intake! I have found the two perfect times to use these. The first is about an hour before a workout or a race. This is the time when I don't want to eat something that is too heavy or will cause me to cramp, but I know I'm going to need a lot of energy. The other time is right after a workout. This is the time when I've exerted all of my energy and I need something to refill with. They are huge! Sometimes I won't even eat it all.
rumblestil934373 (0)
April 9, 2010
Deliciously Naughty
I have to purchase 1 at a time OR store in the freezer so I don't eat them all in one sitting. The only remaining choice is to ride more. 5 out of 4 stars (120% good)
salexander (0)
April 15, 2010
Not a brick!
These bars are so easy to eat while on the bike unlike many others and they just happen to taste great, too. I have a hard time not eating them when passing through the kitchen. I primarily use them for 6hr XC MTB racing and they are a great solid food to mix into the calorie mix. They give quick energy and digest easily and sit well on my stomach unlike other BRICK bars.
Yuki Saito (0)
March 31, 2010
Tastes great and works perfect!
I usually have it for recovery after hard training and it helps me recover quicker with great taste! Highly recommended! Coconut Armond is my favorite:)
Monkeybar (0)
October 1, 2011
Good snack
I purchased another dark chocolate coconut almond and they are the best. I eat one before a ride and some times during my ride. They taste good and they are better than most other bars.