Evoc Duffel
Duffel Deluxe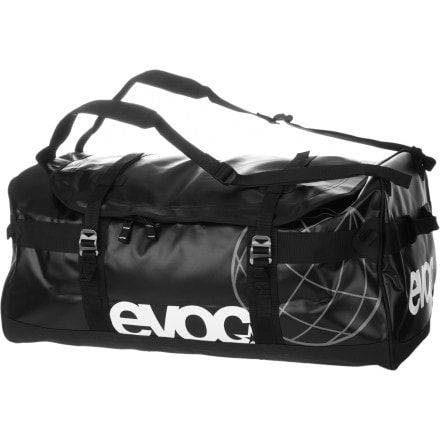 Evoc Duffel:
While the Evoc name is a relatively young one, the company's products are already the stuff of legend. The Evoc Duffel came about to meet frequent customer requests for smaller, more all-purpose gear, after the brand's Bike Travel Case quickly became an industry standard — and the Duffel delivers.
On paper, there are a few duffel bags on the market similar to Evoc's version: you'll find lockable zippers, a durable, water-resistant primary fabric comprising the body, grab-able by the heavy duty handles on either end, and hanging by padded straps that make it easy to wear like a backpack if you want.
Where this one stands apart, however, is in the outstanding treated tarpaulin material that comprises the entire case itself. Tarpaulin is typically little more than a polyester fabric coated with PVC for durability and water resistance. Evoc's tarpaulin, however, is a polyamide fabric coated with their in-house EPO material.
EPO not only makes this already superior fabric even tougher and more water-resistant, it improves UV protection, extreme cold-weather durability and pliability, and is far more environmentally friendly to produce, generating zero ozone-depleting substances, retaining dyes entirely, and containing no dioxin, heavy metals, or phthalates. In short, the EPA loves EPO, and you will, too.
The Evoc Duffel comes in sizes Small (40-liter capacity, 2.3 lbs.) and Large (100-liter capacity, 3.9 lbs.) and in the colors Bright Green, Red, Black, and Blue.
Features:
Material:

EPO-treated Tarpaulin

Volume:

[small] 40 L; [large] 100 L

Dimensions:

[small] 50 x 30 x 25 cm; [large] 70 x 40 x 35 cm

Claimed Weight:

[small] 2.3 lbs; [large] 3.9 lbs
More Photos: