Louis Garneau Dahlia Bike Tank Top - Women's
All the right features without too much fluff.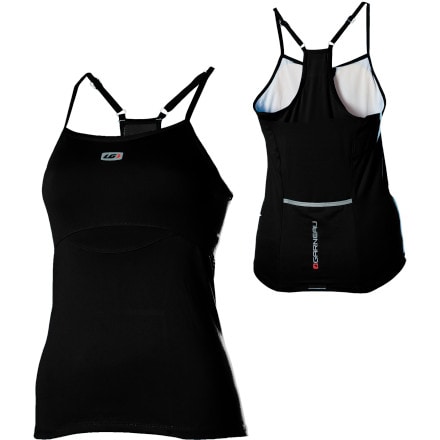 Average Product Reviews (5 Reviews)
Louis Garneau Dahlia Bike Tank Top - Women's:
Louis Garneau designed the Dahlia Bike Tank Top with an eye for simplicity and sleek design. Smooth Lite SkinSens fabric draws perspiration away and lets it escape, and a mesh inner bra with removable cups helps keep you dry while lending support too. A smooth back pocket stows a little goo pack, and an MP3 pocket safely carries your music player of choice. Adjust the straps for just the right fit, and go assume your regular position in front of the pack.
Features:
Material:

86% polyester microfiber, 14% spandex

Fit:

slim

Pockets:

1 back, 1 media

UPF Rating:

50

Recommended Use:

cycling, spin class

Manufacturer Warranty:

1 year
Sizing Chart:
Louis Garneau Women's
Cycling Apparel

Jerseys and Shorts
XXS
XS
S
M
L
XL
XXL
3XL
Chest
28in
(71.1cm)

30in
(76.2cm)

32in
(81.3cm)

34in
(86.4cm)

36in
(91.4cm)

38in
(96.5cm)

40in
(101.6cm)

42in
(106.7cm)

Waist
24in
(61.0cm)

25in
(63.5cm)

26in
(66.0cm)

27in
(68.6cm)

29in
(73.7cm)

31in
(78.7cm)

33in
(83.8cm)

35in
(88.9cm)

Hips
31in
(78.7cm)

33in
(83.8cm)

35in
(88.9cm)

37in
(94.0cm)

39in
(99.1cm)

41in
(104.1cm)

43in
(109.2cm)

45in
(114.3cm)

Gloves
S
M
L
Hand Circumference
in
(cm)

6-7in
(15.2-17.8cm)

7-8in
(17.8-20.3cm)

8-9in
(20.3-22.9cm)

How to Measure:

For best results, take measurements over your underwear.

Chest:

Measure under your arms, around the fullest part of your chest.

Natural Waist:

Measure around your natural waistline, keeping the tape a bit loose.

Hip:

Measure around the fullest part of your body at the top of your legs.

Gloves:

Measure around your hand at the widest point excluding the thumb.
More Photos: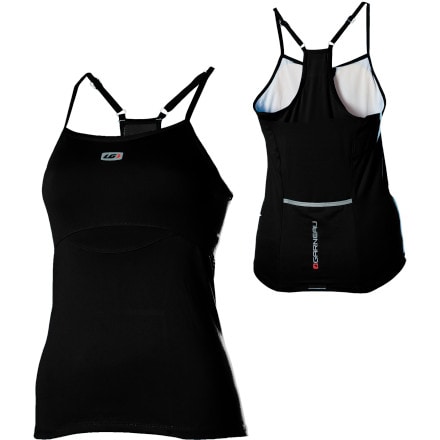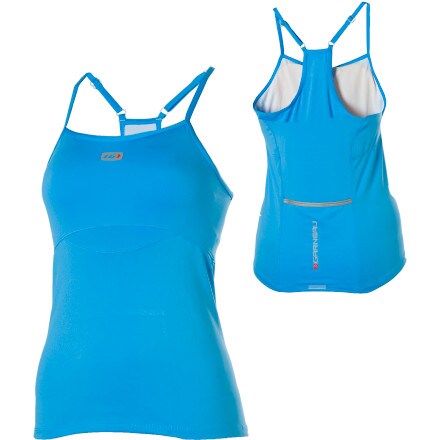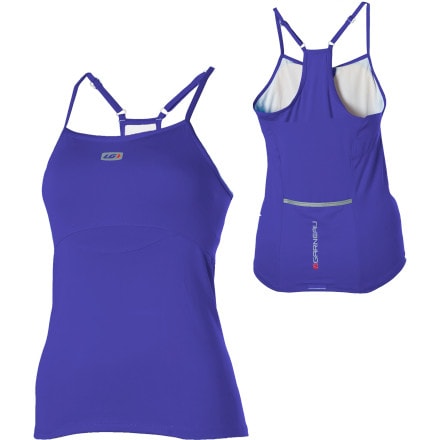 Reviews:
MSSTEP26842088215 (0)
February 17, 2012
love it
I bought this shirt in all three colors. It looks great and really wicks the sweat away. It is so lightweight and very comfortable. It has built in pads. My only complaint, is that they are not removable.
Loren (1)
December 17, 2011
Wife likes
My wife really likes the fit of this top. She looks great in it too!
the4436534 (0)
August 27, 2011
a perfect tank
I love this tank! It is made of the most lightweight material that is comfortable, cool, soft, wicks and dries quickly - great qualities for biking in hot and humid Iowa. It is not a form fitting tank (not on me anyway), which makes it even more cool to wear. My friend was amazed at how reflective the strips were that are located on the back of the tank - very visible at night. The tank comes with pads in the shelf bra, but I took them out...they were too obvious. Because the tank is such a lightweight material AND it has a mesh shelf bra, it does not provide much support, but is ample for me(I am a 36B). This tank is very flattering as well.
only1pengu1669839 (0)
October 31, 2011
Great workout top
I bought this tank top not expecting too much, but it has turned out to be one of my favorite workout tops, whether for biking or running. The extra removable padding in the built-in-bra is double bonus!! This is the reason I'm thinking of getting another in a different color. I can never find workout tanks like this that have enough padding for my needs. And the quality and price of the tank was great.
Ann Sauve (0)
August 14, 2011
Not Recommended
The color was great and the length and fit were fine, but the inner construction was unacceptable. Sewn between a thin lining are two triangular pads that move around and bunch up. I sent this top back as fast as I could! Definitely not worth the money, even on sale!