Garmin Edge 500 GPS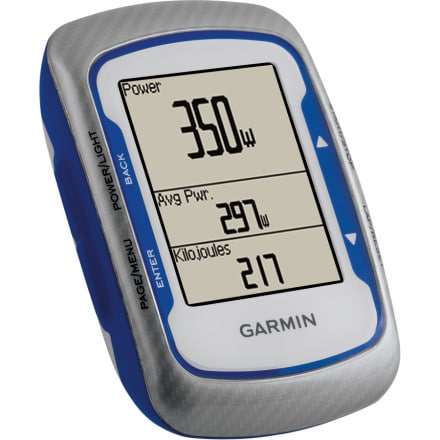 Average Product Reviews (4 Reviews)
Garmin Edge 500 GPS:
When we first heard the expression, "paralysis by analysis, " we weren't sure what to think. We knew how to sift information during a bike ride. Then we saw the SRM PC V computer. Four lines of data at all times, plus a fifth line that toggles between two different metrics. Brain pain. You were supposed to look at all that and still ride? We're not piloting a passenger jet.
Garmin made the Edge 500 for people who were overwhelmed by the 705. Some were overwhelmed by all the data; some were overwhelmed by the size. The 500 is a nice size that can give you plenty of info but can keep it in check.
The 500 is a great stand-alone bike computer that allows you pretty tremendous flexibility in terms of what you track on your ride. There are three fully-customizable ride screens, each holding up to 8 lines of data. You can run one or two or three, and so on if you want. The 500 isn't telling you what data should go with other data. You can choose it on your own. You want to run temperature and cadence? You can do it. As the unit comes, you can get times, temperature, altitude, gradient, speed, cadence, and all the combinations you can think of in terms of averaging. You can pair up the 500 with any ANT+ enabled powermeter, which at this moment means iBike, PowerTap, Quarq, and SRM, and add power data as well.
The 500, while GPS-enabled, does not have mapping capabilities on the computer, so you can neither see a map nor have it dictate a route. The unit also doesn't have a virtual training partner feature. It will, however map your coordinates so you can see the ride after it's over.
The unit works with Garmin's own Garmin Training Center program. The program is a free download from Garmin's website and is compatible with PC's running Windows XP or newer and with Intel-based Macs running OS X 10.4 or later. The data can also be uploaded to the Garmin Connect website for free, and to both WKO+ and TrainingPeaks.
The Edge 500 measures 1.9in wide by 2.7in high by .85in deep (4.8x6.9x2.2cm). The display size is 1.17in wide by 1.44in high (3.0x3.7cm). The display resolution is 128x160 pixels. The unit is powered by a rechargeable lithium-ion battery that will get up to 18 hours on a charge. Available in two colors, Blue and Neutral. It comes with two handlebar mounts. Claimed weight of the Garmin Edge 500 is 2oz (56.7g).
Features:
Dimensions:

4.8 x 6.9 x 2.2 cm

Display Dimensions:

3 x 3.7 cm

Mapping:

(no real-time mapping) yes

Display Resolution:

128 x 160 pixels

Computer Compatible:

yes

Weight:

56 g

Recommended Use:

training, racing, keeping track of your ride progress
More Photos: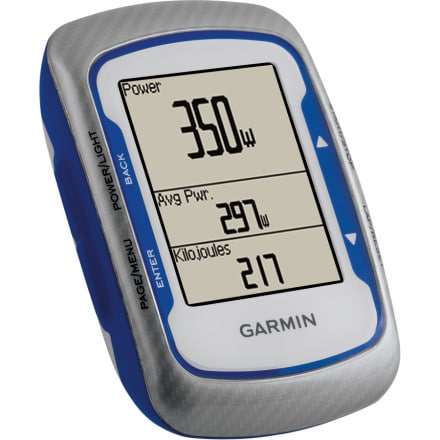 Reviews:
Hap Seliga (0)
March 16, 2012
Great training tool!
The Garmin Edge 500 is a fantastic training device. I have mounts for my mountain, road and cross bikes for ease of transferring between bikes. I've also been known to throw it in my pocket for trail runs. The first one I received from Garmin wouldn't locate satellites for some reason and Garmin quickly sent a replacement. I've used it for over a year without any problems. I love having the ability to plug into GarminConnect and see all my ride info on the computer. And all-in-all a great training tool!
Lindley Pryor (1)
October 4, 2012
A real step up
Garmin made huge improvements over earlier models (I used to run the 305). The Edge 500 has a much nicer design, especially the twist mount. Aesthetically, it looks great on the bike. Functionality is enhanced by placing the buttons opposite of each other. This allows easier on-the-bike menu selections by balancing your hand movements against themselves. I haven't had any trouble with the software, so perhaps I got an updated version from the one-star review on this page. The Edge 500 locks onto satellites much quicker...under 15 seconds is normal for me, and the backlight is white instead of sickly green. Customizable screens are another nice touch, and you can have the unit scroll automatically between screens if you can't jam all the desired data onto one screen. And there are many choices for what data to show. Cost is a little breath-taking, but I feel better now with about 15 months of daily use. It's still going strong, holds a charge, etc. I love that this thing just works, every time, no drama or fiddling around. It interfaces seamlessly with Strava (probably more a compliment to Strava than Garmin, but still....). I have no problem recommending the Edge 500
Rick Nelson (0)
March 28, 2012
Perfect Sized Bicycle GPS
I purchased the speed/cadence sensor as well as the heart rate monitor for this unit. When you upload ride data to Garmin Connect, you not only get charts and graphs representing your ride, you also get a map with your ride highlighted. Very cool! Unit has proven to be waterproof on several rides in the rain. Battery life is awesome. Battery is not user serviceable, but according to Garmin, will last several years. Acquires satelites within seconds from powering up. I am very pleased with this purchase.
Red Hed (0)
July 15, 2010
Firmware Bugs - Loses or Corrupts Data
If the Edge 500 wouldn't crash, lose or corrupt data, it would be great. But it does crash, lose and corrupt data...!!! See the Garmin forums for all the user problems! one thread is over 24 pages now... DO NOT BUY UNTIL FIRMWARE IS FIXED Piece of junk - the Edge 305 was better.