Assos DB.8 oysterGilet
Technical meets casual.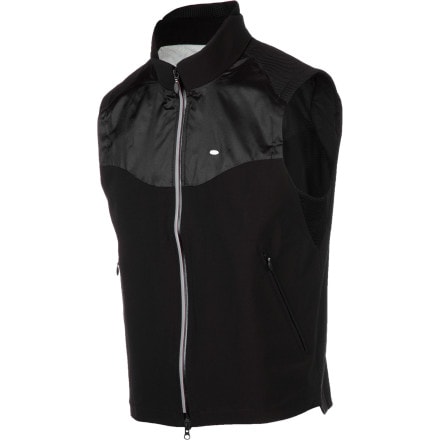 Assos DB.8 oysterGilet:
Aligning itself within Assos' 'after bike' collection, the DB.8 oysterGilet is a casual vest that's been engineered to insulate and protect you from the elements. The DB.8 was built with the same proven fabrics and fit as Assos' DB.10 trackJack, representing the perfect balance of style, comfort, and functionality that you've come to expect from the Swiss apparel designer. The result is a new take on what's possible in a technical post-ride vest design.
The DB.8 oysterGilet was built with several of Assos' exclusive fabrics. For the lower body paneling, its DB.ZERO 205 fabric was employed. This flexible material works to keep your core both insulated and dry through its dual-layer composition. The stretchy outer-layer provides a touch of insulation, while the inner pulls moisture away from any clothing underneath. This transportation process continues as moisture passes through the fabric and is deposited on the surface layer, where it quickly evaporates. Due to these properties, Assos considers this fabric to be a 'transportation' textile, as it functions to draw moisture away from the body while still insulating your core.
For the upper paneling, Assos added its water- and wind-repellent DB Rombo 215 fabric. This sleek material works in conjunction with the DB.ZERO 205 lower paneling in order to provide enhanced temperature regulation to your core. The 215 material accomplishes this by shielding your upper torso from the elements, furthering your overall comfort by keeping you dry. The DB.8 paneling was rounded out with 3D-honeycomb mesh underarm inserts, which, together with the other paneling materials, maintains your 'internal microClima' inside the vest.
The DB.8's fit is slightly more spacious than your riding vest, as the paneling design was built specifically for your daily life off of the bicycle. The fabric panels were joined in a way that contours to the body without restricting movement. A thin 'free-standing' neck panel composes the DB.8's collar, which was specifically designed to keep pressure off of the neck. And to complement this overall theme of comfort, Assos lined the inside of the DB.8 with its thin DB.195 to provide smooth, chafe-free contact with your skin.
Assos finished off the DB.8 with two zippered front pockets and a single 'safety' zippered pocket on the inside. It also added its dual-opening front zipper, which allows you to determine which way the vest separates. A small logo was added to the chest, and a reflective security stripe lines the upper rear panel.
The Assos DB.8 oysterGilet is available in seven sizes from X-Small to TIR and in the color Black.
Features:
Material:

[body] DB.205; [upper paneling] DB.215; [lining] DB.195

Fabric Waterproof Rating:

water-repellent

Fabric Breathability Rating:

highly breathable

Windproof Rating:

wind-resistant

Hood:

no

Fit:

semi-form

Venting:

full-length front zipper

Pockets:

2 zippered hand

Recommended Use:

after-bike casual

Manufacturer Warranty:

limited lifetime
Sizing Chart:
Assos
Men's Apparel
Shorts
XS
S
M
L
XL
XLG
TIR
Height
4ft 11in - 5ft 2in
(150 - 159cm)
5ft 3in - 5ft 6in
(160 - 169cm)
5ft 7in - 5ft 10in
(170 - 179cm)
5ft 11in - 6ft 1in
(180 - 185cm)
6ft 1in - 6ft 3in
(186 - 190cm)
6ft 3in - 6ft 5in+
(191 - 195cm+)
XLG but wider
Tops
XS
S
M
L
XL
XLG
TIR
Chest
35.4in
(90cm)
37.8in
(96cm)
39.4in
(100cm)
40.2in
(102cm)
43.3in
(110cm)
45.7in
(116cm)
46.5+ in
(118cm)
How to Measure:

For best results, take measurements over your underwear.

Chest:

Measure around the widest part of your chest.
More Photos: