Vega Sport Endurance Bar
Keep going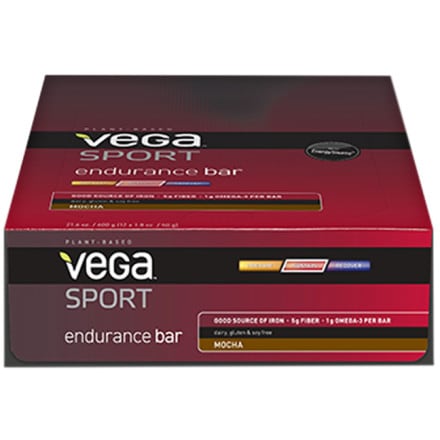 Vega Sport Endurance Bar:
Vega's line of Sport Supplements is a complete system for demanding athletes --it is composed of a multi-course, plant-based protein blend and complex carbohydrates to give you all the nutrition you need during your long training days. Impressively, Vega achieved this with a completely vegan list of ingredients.
The Vega Endurance Bar provides not only instant, but sustained energy during workouts. It does this through a blend of carbohydrates both simple and complex. Additionally, it features one gram of Omega-3. Omega 3s have been shown, in research, to help lower triglycerides as well as blood pressure. A small source of fat, they help propel you through your toughest workout without the bonk.
The Vega Endurance bar has 190 calories. In addition be being an ideal training food, it is also an excellent nutrient-rich snack.
The Vega Sport Endurance Bar comes in a box of 12 bars and is available in the flavors Acai Berry and Mocha.
Features:
Serving Size:

1 bar

Servings Per Container:

12

Calories:

190

Total Carbohydrates:

30 g

Total Fat:

4.5 g

Saturated Fat:

0.5 g

Protein:

8 g

Sodium:

70 mg

Cholesterol:

0 mg

Dietary Fiber:

4 g

Sugars:

19 g

Recommended Use:

cycling nutrition
More Photos: