3T ARX Alloy Stem
Fork, meet handlebars.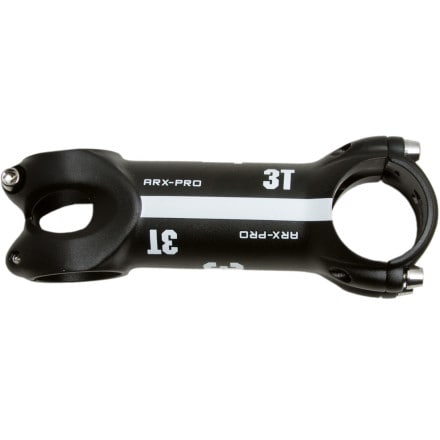 Average Product Reviews (2 Reviews)
3T ARX Alloy Stem:
The 3T ARX Pro stem is identical in almost every way to the ARX Team stem. In fact there are only 2 differences of note: (1) The ARX Pro uses a steel bolt package instead of the Team's titanium bolts. This results in a net weight difference of 30g, with the ARX Pro weighing in at 150g. (2) The Pro has a White stripe down the side. The Team gets a Red stripe.
Structurally speaking, the ARX Pro and Team are the same stem. They're both forged for strength, and they both pass the same battery of DIN and CEN certification tests. With the Pro you end up a few extra grams due to its steel bolts, but you save a pocketful of dollars. It's available in 10mm increments between 90mm-130mm. The stack at the steerer clamp is 40mm tall. It comes in a 31.8mm clamp size only.
Aluminum alloy for stiffness and strength
Four-bolt faceplate distributes force across a larger section of the handlebar, making it ideal for composite bars
Stainless steel bolts won't rust, so you're safe in all conditions
Features:
Material:

aluminum alloy

Bar Diameter:

31.8 mm

Steer Tube Diameter:

1.125 in

Length:

70 mm, 80 mm, 90 mm, 100 mm, 110 mm, 120 mm, 130 mm, 140 mm

Rise:

+/- 6 degrees, +/- 17 degrees

Bar Attachment:

4-bolt

Claimed Weight:

[110mm] 140 g

Recommended Use:

cycling, racing
More Photos: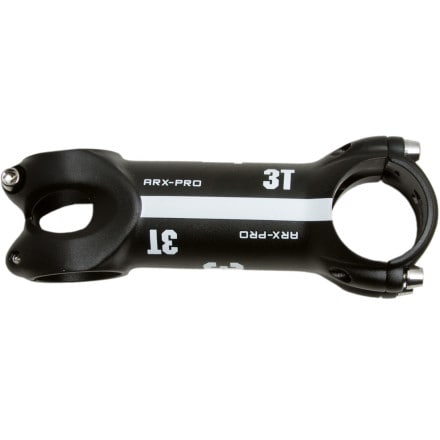 Reviews:
Jason Lew (0)
June 1, 2012
Great Stem!
After a fitting I knew that I need a slightly shorter stem, so I looked and looked everywhere online to find the best reviewed. Well this one is it! It is super light, stiff, and all in all, looks good! Installation was a breeze, now all I need to do is ride to see about the durability.
gilipollas (0)
May 4, 2012
great stem
great stem, stiff, light, much lighter than the stock stem on my 2005 allez which it replaced. the graphics look nice, and it's a overall a high quality piece. i was tempted to buy the next model up, the TEAM stem, but after reading several instances of sheared titanium bolt heads, and considering it's only a 5 or 10 gram weight savings for an extra $35, this seemed like enough. not to mention that many high-end bikes, including a good portion of cervelo's high end builds, use this same stem. great product