Shimano XTR Hollowtech II 2x10 FC-M985 Crankset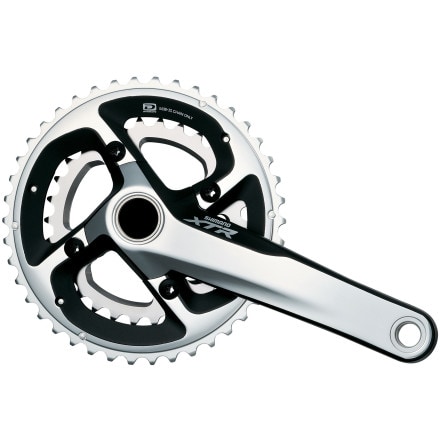 Shimano XTR Hollowtech II 2x10 FC-M985 Crankset:
If you like more gear options, the XTR Trail is for you. On the other hand, if you like to hammer out of the saddle and have little use for redundant ratios, Shimano's Hollowtech II 2x10 FC-M985 Crankset will fit the bill.
For strength and efficiency, the FC-M985 XTR Crankset uses Shimano's Hollowtech II hollow cold-forging process. This makes for a crankarm assembly that is both lighter and stronger than designs with solid arms. Adding to that, the outer chainring is hollow too, and the advanced 3D shape is stiffer and more resistant to deflection when making quick shifts up to the big ring.
Also, the chainrings are shaped according to Shimano's HG-X tooth profile design. What this means is that the shifts are optimized, and the simplification to two rings makes them fast and crisp. The XTR Race 2x10 comes in four crankarm lengths -- 170, 172.5, 175, and 180mm.
You can also choose between 28/40t and 30/42t configurations. It comes complete with an XTR Hollowtech II bottom bracket. The XTR Race 2x10 Crankset uses a unique 88mm Bolt Circle Diameter, meaning only XTR double rings will fit -- the Trail triple and 28/36t double cranks do not share this BCD.
Finally, Shimano gives the XTR Hollowtech II 2x10 FC-M985 Crankset a 6mm narrower Q-factor than the M980 Trail crankset for to aid spinning -- essential to cross-country efficiency.
Features:
Arm Material:

aluminum

Arm Length:

170 mm 175 mm, 180 mm

Chainring Sizes:

28 / 40 T, 30 / 42 T

Bolt Circle Diameter:

88 mm

BB Type:

Hollowtech II

BB Threading:

English

Bolts:

alloy

Rings:

2

Spindle:

Shimano Hollowtech II

Recommended Use:

cycling
More Photos: