Gore Bike Wear Contest Men's Jersey
Keep unzipping.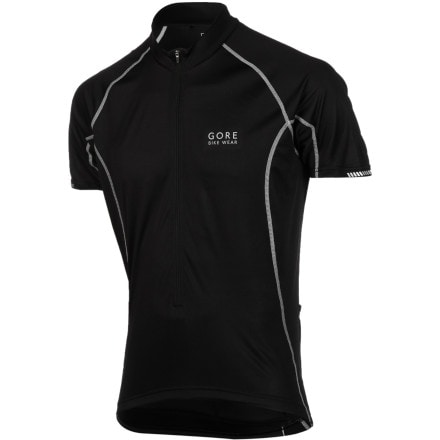 Gore Bike Wear Contest Men's Jersey:
Whether you're new to cycling or a seasoned veteran, you'll enjoy the versatility of the Gore Bike Wear Contest Jersey. The Contest is a solution for those who would rather display their good taste than their favorite team's colors.
For the construction of the Contest, Gore chose a polyester microfiber fabric for its ease of care and ability to wick sweat away from the skin. By transporting moisture from the skin to the surface of the fabric, the Contest keeps the rider dry and comfortable. The construction of the Contest takes advantage of evaporative cooling in order to provide thermo-regulation on warm days. Meanwhile, mesh underarm panels further enhance the jersey's core-cooling airflow. And in addition to this, the stretchy fabric keeps you comfortable no matter how many times you readjust your position in the saddle.
A contoured cut compliments the understated styling of the jersey, making the Contest an adaptable piece, regardless of the intent of your ride. Gore uses flat lock stitching throughout, which keeps chafing and fabric bunching to a minimum. Additionally, Gore placed a 3/4 length semi-lock zipper at the front of the jersey that lets you dump heat in a hurry. This zipper leads up to a close fitting collar that rests against your neck instead of flapping in the breeze.
For holding your ride essentials, the Contest has three rear pockets. Even better, the outside pockets have been slanted for easy access while in the saddle. Gore also incorporated reflective materials throughout the jersey in order to increase your visibility to motorists in low-light conditions.
The Gore Bike Wear Contest Jersey is available in five sizes from Small to XX-Large and in the colors Black/silver grey, Kiwi/silver grey, Red/silver grey, Splash Blue/silver grey, and Vibrant Orange/silver grey.
Features:
Material:

[jersey] polyester

Fit:

anatomic

Zip:

3/4-length camlock

Season:

spring/summer

Pockets:

3 rear, 1 back security

Recommended Use:

road and mountain biking

Manufacturer Warranty:

1 year
Sizing Chart:
GORE Bike Wear & Running Wear
Men's
Jerseys & Jackets
S
M
L
XL
XXL
Chest
32.75 - 34.75in
(83 - 88cm)
35 - 37in
(89 - 94cm)
37.5 - 39.5in
(95 - 100cm)
39.75 - 41.75in
(101 - 106cm)
42 - 44in
(107 - 112cm)
Arm Length
29.75 - 30.75in
(76.5 - 78cm)
31 - 31.75in
(79 - 80.5cm)
32 - 32.75in
(81.5 - 83cm)
33 - 33.75in
(84 - 85.5cm)
34 - 34.75in
(86.5 - 88cm)
Shorts & Bibs & Tights
S
M
L
XL
XXL
Waist
28.75 - 30.75in
(73 - 78cm)
31 - 33in
(79 - 84cm)
33.5 - 35.5in
(85 - 90cm)
35.75 - 37.75in
(91 - 96cm)
38 - 40in
(97 - 102cm)
Hip
33.5 - 35.5in
(85 - 90cm)
35.75 - 37.75in
(91 - 96cm)
38 - 40in
(97 - 102cm)
40.5 - 42.5in
(103 - 108cm)
43 - 45in
(109 - 114cm)
Inseam
30.75 - 31.25in
(78 - 79cm)
31.5 - 32in
(80 - 81cm)
32.5 - 32.75in
(82 - 83cm)
33 - 33.5in
(84 - 85cm)
34 - 34.25in
(86 - 87cm)
How to Measure:

For best results, take measurements over your underwear.

Chest:

Measure under your arms, around the fullest part of your chest.

Arm Length:

Measure from the center of your back to your wrist with arms held out.

Waist:

Measure around your natural waistline, keeping the tape a bit loose.

Hip:

Measure around the fullest part of your body at the top of your legs.

Inseam:

Using pants that fit well, measure the crotch seam to the bottom of the leg.
More Photos: