Continental Grand Prix 4000 S Tire - Clincher
Faster through the corners.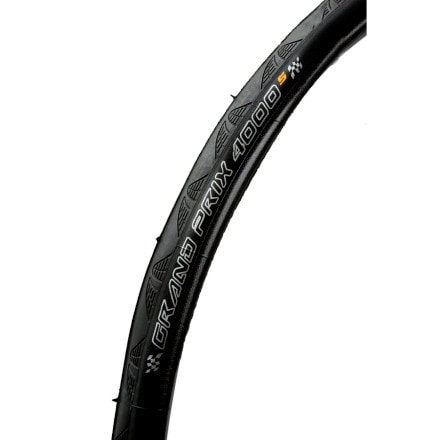 Continental Grand Prix 4000 S Tire - Clincher:
The popularity of the first-generation Continental Grand Prix 4000 was thanks to its unmatched versatility: It was light enough for a hilly ride, but beefy enough to survive chip & seal unscathed; its low rolling resistance made it an ideal choice for race wheels, but it didn't puncture at the first sign of road debris; it stuck to the road when you cornered at high speeds, but it didn't feel sluggish when you accelerated. It was a design that needed little in the way of improvement, but the engineers at Continental made some substantial improvements nonetheless -- and the finished product is known as the Grand Prix 4000s Clincher Tire.
The GP 4000s offers Continental's Black Chili rubber compound. They first developed this for the Moto GP racing circuit, and they've brought it over to their top-end bike tires. Super-tiny carbon black particles are incorporated into the rubber formula to provide benefits along three lines:
1. The tiny size of the Black Chili particles allows them to mold to the road surface more readily. It gives the tire greater ability to conform to imperfections in the road surface. Better contact with the road means better grip in demanding situations such as high speed cornering.
2. Since the Black Chili particles are so small, more particles fit into the contact patch of the tire -- reducing tire wear and increasing tire longevity.
3. The Black Chili particles are literally more flexible, which reduces the rolling resistance of the GP 4000s.
The Continental Grand Prix 4000s has a dynamic siped tread pattern for all weather traction. A Vectran layer sandwiched underneath the tread adds significant puncture resistance. The GP 4000s is available in 700x23 and 700x25 in Black/black.
Features:
Size:

700 C

Bead:

Kevlar

Foldable:

yes

Claimed Weight:

230 g

Recommended Use:

cycling, racing
More Photos: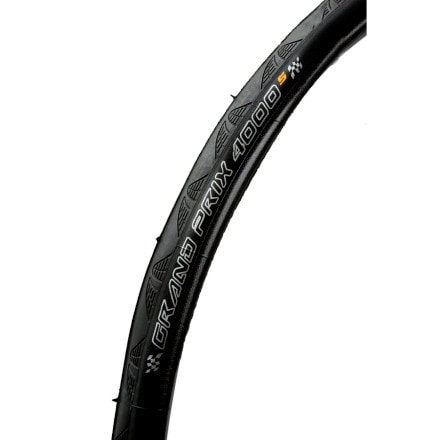 Reviews:
Ted Fundoukos (0)
October 30, 2012
Racing Tires
These are made to race and not to put on thousands of miles of use. They are light weight and have a very thin side wall which tend to tear easily if you brush them up against a curb. You will know as you will keep getting flats. If you plan on training for thousands of miles better to get the gator hard skins or 4 season continental. With that said, they are awesome tires.
Cujo (0)
September 18, 2012
perfect
2500 mile tires even for a fat kid on country roads. 2 flats, that is no exaggeration. Great ride and bomb proof rubber. These are and will be my only tires.
Eric Hill (0)
July 18, 2012
recommended
Durable, high pressure tire, great for training, and the treadwear indicators are a good idea. I gave it 4 stars instead of 5 because this tire is very hard to mount and dismount. The bead should be easier to work with. I would like a slightly lighter tire but that may reduce it's durability.
dewolf (0)
November 30, 2012
...wore them out plus more
these are great tires! they roll great, they have excellent grip and you can get quite a bit out of them. I did rotate front to back after a while to even the wear out as they wore flat in the contact area and then right down to the fabric in the tread area and they were still going strong. I pushed it beyond that for a couple of rides just to see what would happen. The rubber was micro thin and shredded in a couple of areas and they still did not flat. Finally took them off and parked them for a new set! I got approx 4000km-5000km from them ...maybe I can get them retreaded.
(0)
March 3, 2010
Crème de la Crème
Don't be fooled by imitations, this is the tire that all others attempt to live up to. Over two years on these and I have no complaints.Build Quality is awesome.Ride is awesome.Wear is ridiculously good, especially in Black Chili.Dry/Braking traction is good.Dry/Cornering is so predictable you know and learn to trust the tire like no other.Wet/Cornering, Yes I am not kidding you can go race pace into the wet corner. Unbelievable.Fit and finish is great.
dfu4040712 (0)
September 10, 2010
Outstanding Tire
Probably the best clincher I have used. It rolls very well. It doesn't feel like the fastest tire in the world, but the ride is excellent, the quality of construction is first rate, and it feels solid and durable. For me this is an excellent tire for fast club century rides. The Pro Race 3 may feel lighter with lower rolling resistance but it may be more prone to flats than the strongly built GP 4000S. Excellent all around product. Excellent on time delivery from RealCyclist too!
rbt3674337 (0)
February 21, 2010
Great tire...
I've been riding the 4000S for about 2 years and haven't come across a better all around tire. They really wear well, very tough and have a good feel on the road. I also rode them for a week in the rain at a CTS camp and they performed very well.
Michael van Loenen (0)
September 2, 2010
2000kms and still going
The best tire I have used bar none - I used to like Hutchinson as they were cheaper but kept getting side wall blowouts. I have had the Conti 4000s for 2000 kms and so far they have lived up to all the reviews I have read. I was told to swap the back tire to the front after 1000kms as they take 1000kms or so to harden up. I did notice that the back tire did wear pretty quick over that time (slight flat spot) but now its been on the front for 1000kms it hasnt really worn at all, plus the tire thats now on the back has hardned up sufficiently it still looks almost new with no flat spot yet. Im pretty sure Ill get another 2000kms out of them, which makes them well worth the price.
Spoke (0)
September 27, 2011
Good tire with higher pressure
After 3 pinch flats in the first month I came to the conclusion that the sidewall strenght and tire shape required a higher pressure be maintained at least in the rear tire. I incresed the pressure from 125 to 135psi and had no more pinch flats. The tires are smooth and wear well and were a replacement for my GP 4's. My belief is many people are running this tire at 110psi and are having issues. I believe these tires are rated 145psi so pump them up.
Tom Chell (3)
June 29, 2010
Great tires
I have been riding Continentals for decades. The Grand Prix and the Continentals in general are by far the most durable tires out there. I usually get about 1500-2000 miles per set. In most seasons never flat. Great life, very light weight. Perfect tires for all round performance.
Dave Peck (31)
June 7, 2009
The best all-around
The Conti 4000S is the best combo racing/training road tires around. Ultra light and great grip, with unbelievable flat-protection and super long life. The only detriment is you'll get a flat spot if you ride a trainer extensively; just be less lazy than I and change out your rear tire when you have to ride the trainer.